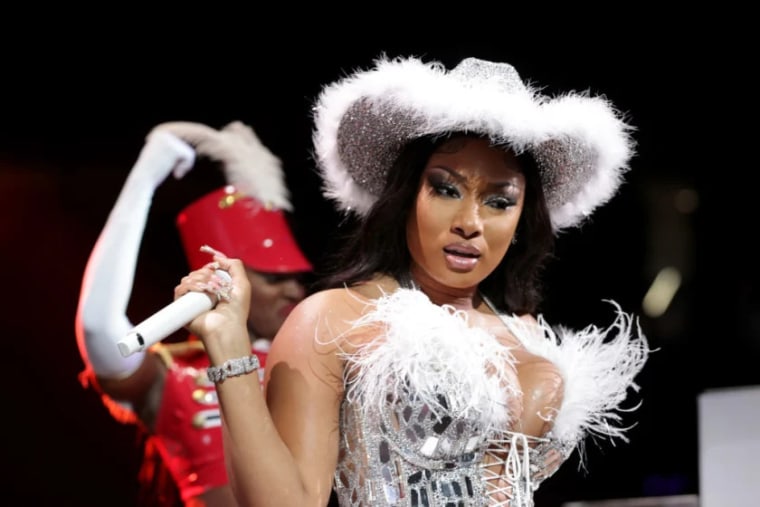 Megan Thee Stallion has taken out a restraining order against 1501 Certified Entertainment with a court ruling that her label took "unlawful" steps to stop her promoting her music, Billboard reports. The court order arrives ahead of this weekend's American Music Awards. Megan is nominated for Favorite Female Hip-Hop Artist at this year's AMAs, which take place on November 20.
The order, filed in Harris Country District Court in Texas on Monday, states that Megan successfully provided evidence that 1501, alongside publishers 300 Entertainment, had "recently engaged and will continue to engage in threatening and retaliatory behavior that will irreparably harm" her career.
Specific details of the behavior was not made public in the ruling but her legal team argued that she would "suffer irreparable harm if her music cannot be used in conjunction with her promotion for the AMAs."
Per the ruling both 1501 and 300, as well as anyone acting "in concert or participation with" the labels are restricted from "preventing or blocking the use and exploitation" of her music in promotional content for the AMAs. This includes by "threatening or otherwise attempting to intimidate or coerce" third parties. A hearing scheduled for November 22 will determine the long-term future of the restraining order.
Megan Thee Stallion has had to resort to such emergency measures before, most notably in 2021 when she took out a restaining order as a means to ensuring a collaboration with BTS was released.
In addition to her ongoing battle with 1501, Megan also recently spoke out about Drake after he appeared to suggest she had lied about being shot by Tory Lanez.
The FADER has reached out to reps for Megan Thee Stallion, 1501, and 300 for comment.