Kate NV announces new album WOW, shares "oni (they)"
The third cut from the from the March 2023 record, arrives alongside a Vladimir "Vova" Shlokov video treatment.
Kate Shilonosova has announced a new album titled WOW, her fourth full-length as Kate NV and released its third single, "oni (they)." Due out March 3 of next year, the record is the first full-length follow-up to her triumphant 2020 opus, Room for the Moon.
Dropped three months into the global lockdown, that record had all the makings of a breakout project, but the timing of its release dampened its potential mainstream appeal. Still, Shilonosova has remained one of the most consistently exciting creators of contemporary avant pop, pushing herself further into uncharted territory with each new endeavor.
"D D Don't" and "Early Bird," the first two offerings from WOW (both shared before the record's official announcement today), are both big ideas in small packages — the former a MIDI-based deconstruction of both linguistic and musical vocabulary, the latter an electronic, orchestral rendering of birdsong — and "oni (they)" follows suit.
In keeping with her affinity for the music and language of Japan, Shilonosova uses a lyrical cycle written by Takahide Higuchi (Foodman) as an entry point for a madcap journey into the controlled chaos of her imagination. Synthetic arpeggios bound beside other glitchy ephemera to create an intricate rendering of the hypothetical chiptune soundtrack for a Kate NV role-playing video game.
Aptly, Vladimir "Vova" Shlokov's animated video for the song follows a crude avatar of Shilonosova as she wanders through an endless sea of objects — beach balls, keyboards, televisions, traffic cones, tires — collecting them around her body like redeemable tokens as she goes. Watch the clip and view WOW's cover art and tracklist below.
WOW cover art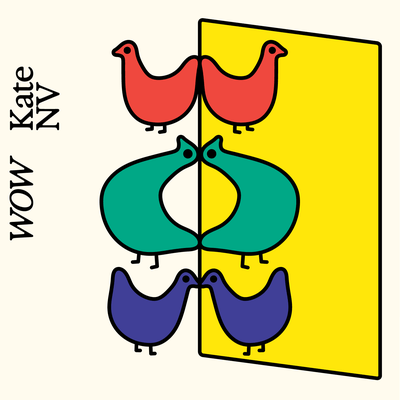 WOW tracklist
1. oni (they)
2. confessions at the dinner table
3. slon
4. asleep
5. nochnoi zvonok (night call)
6. mi (we)
7. d d don't
8. early bird
9. razmishlenie (thinking)
10. flu
11. meow chat