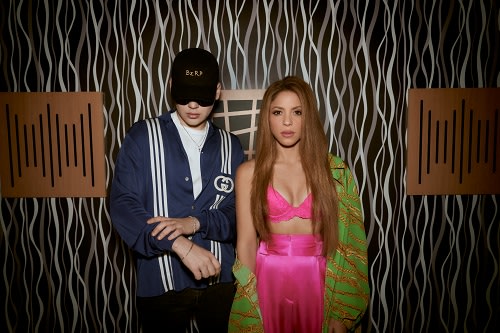 Bizarrap's BZRP Music Sessions took the world by storm last year, making him a hot commodity in his native Argentina and one of the most sought-after producers in South America at large. Each session finds him collaborating with a new artist, and these have included some of the biggest acts from his home country (L-Gante, Nathy Peluso) and beyond (Nicky Jam, Anuel AA, et al.). The 2022 season ended on a high note with Vol. 52 feat. Quevedo, which topped the Billboard global (excluding the U.S.) charts for six weeks. Last night (January 11), he returned for BZRP's first installment of 2023, featuring none other than the Colombian queen of pop, Shakira.
In BZRP Music Sessions #53, Shakira premieres a song she teased Monday with a mysterious message in the skies above Miami, Florida and Mar del Plata, Argentina: "Una loba como yo no está pa tipos como tú" ("a she wolf like me isn't for guys like you"). These self-referential lyrics, as it turns out, are at the heart of the new, as-yet-unnamed track's hook. Surrounding this general warning are verses that deal with her very specific personal issues: her public divorce from Spanish soccer star Gerard Piqué in the fall and her ongoing legal troubles in Spain over alleged tax fraud. Bizarrap's bouncy beat is the perfect backdrop for her rapped/sung verses and belted chorus, a testament to his chameleonic style.
Aside from her personal drama, Shakira released two songs last year, collaborating with Rauw Alejandro in April on "Te Felicito and with Ozuna in October on "Monotonía," and guested alongside David Guetta on Black Eyed Peas' "Don't You Worry" in June.
Watch her perform her new track in Bizarrap's studio below.