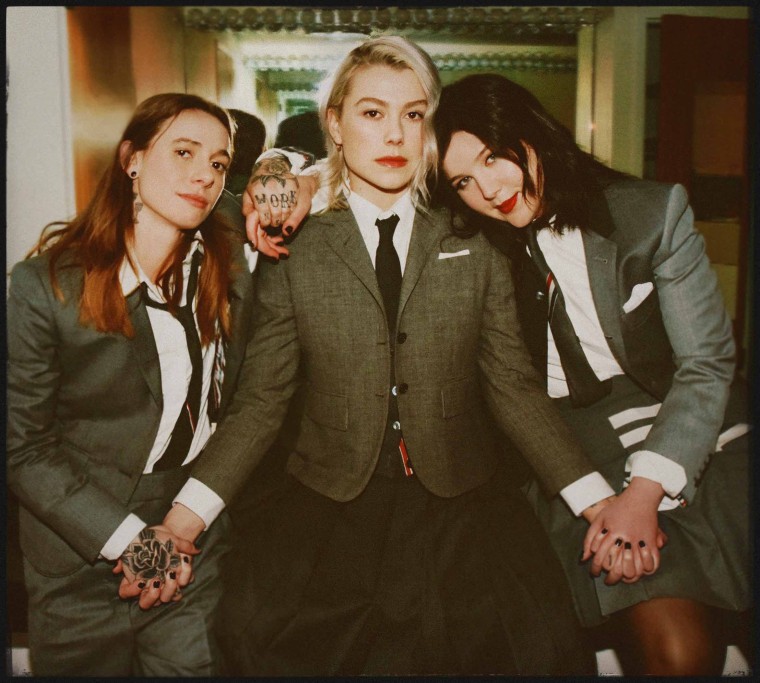 boygenius are the latest musicians to speak out against Tennessee's new anti-drag legislation while performing in the state. Phoebe Bridgers, Lucy Dacus, and Julien Baker played a show in Nashville on Sunday, June 25, and led a chant of "Fuck Bill Lee" aimed at the Governor who signed the drag bill on the same day he signed a bill banning gender-affirming health care for transgender youth in the state.
Speaking from the stage, Baker told the Nashville audience that, "Today I'm so grateful for my life, not because I get to stand onstage with my best friends … but because I'm content with the person that I am. I have a lot of anger for the people that have made me feel small, and feel erased. And I've found it's a really powerful and humiliating tool to make those people fuck off. I would like you to scream so loud that Governor Lee can hear you."
The three members of Boygenius appeared in drag make up and also shared their drag names with the Nashville audience; Lucille Balls (Dacus), Shanita Tums (Baker), and Queef Urban (Bridgers). The latter, presumably, a reference to the country musician who accidentally hard launched Bridgers' relationship with comedian Bo Burnham recently. Previously on the band's tour fans in Toronto surprised them with a Pride-themed light show.
The anti-drag bill, first passed in March, effectively bans drag performances in public places and in front of children, with first-time violators facing a misdemeanor charge. On April 1 it was temporarily blocked by a federal judge after an LGBTQ+ theater company filed a lawsuit claiming the statute violates the First Amendment.
Among the musicians who have spoken out about the bill in the past few months are Lizzo, Madonna, and Yo La Tengo.