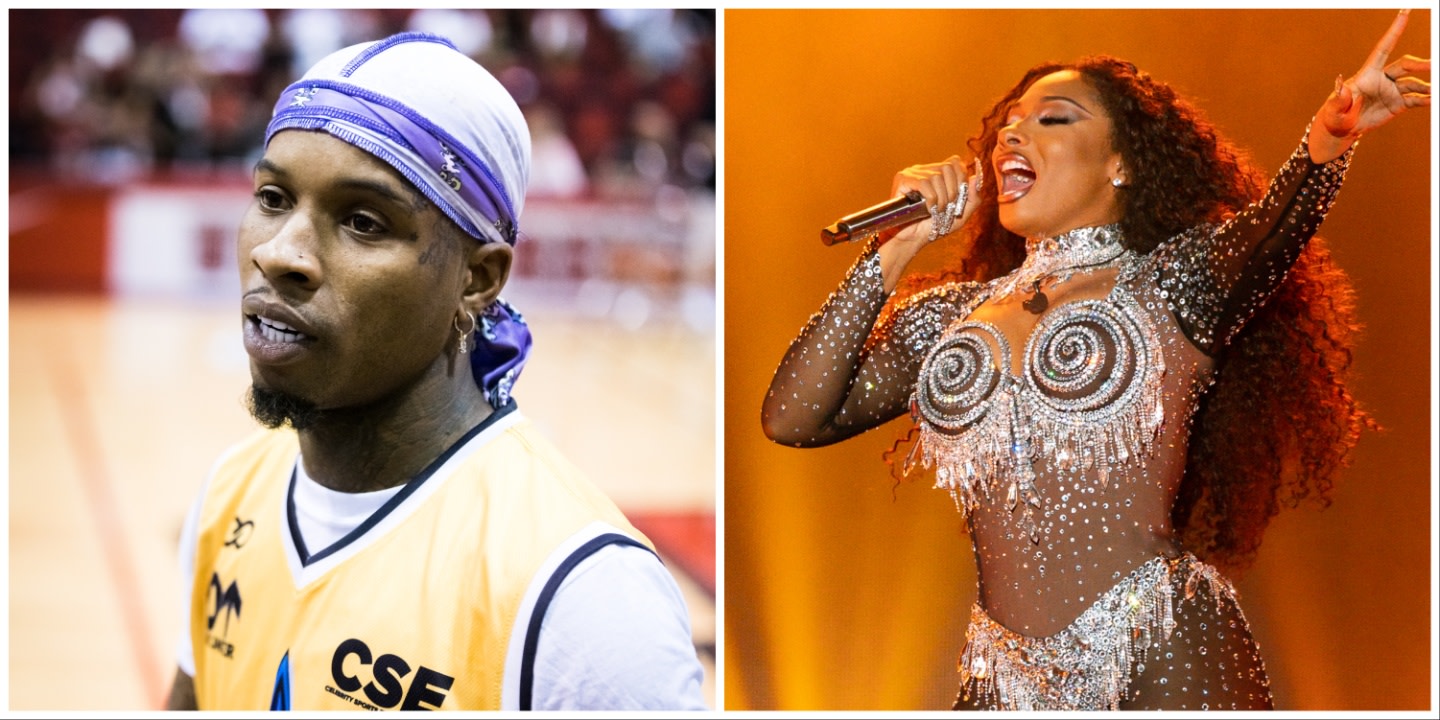 You have to imagine this has been a bad summer for DJ Akademiks, even if he puts on a brave face. First came the March arrest of Andrew Tate, the British-American influencer who racked up billions of TikTok views advocating violent misogyny — "I think he's a positive role model for men," Akademiks said of the alleged rapist and human trafficker during an early August stream. Then Tory Lanez was sentenced to 10 years in prison this month after he was found guilty of shooting Megan Thee Stallion in the foot in 2020. Over the course of the trial, Akademiks took to Twitter time and time again to antagonize Megan and defend Lanez with unverified (and quickly deleted) trial "insights." Backed into a corner, he still insists that maybe Tory didn't do it.
Though he has been one of Tory Lanez's most prominent supporters over the past three years, Akademiks is far from the only one. Rappers from DaBaby all the way up to Drake closed ranks to support Lanez in their music. Online platforms including The Shade Room, Daily Loud, and XXL posted about the case as if Megan Thee Stallion was the one on trial. And beyond the blogs, we can't ignore the everyday, garden-variety morons who cracked jokes at Megan's expense and swore Tory's innocence despite the mountain of evidence to the contrary.
"There's so much interest in this case that it just leaves this big, open space for blogs and almost malicious bad actors to come in and spread misinformation," Meghann M. Cuniff, a courtroom reporter who followed the trial closely, said in an interview after Lanez's sentencing. "Not only malicious bad actors, but people who just don't really have the training and sophistication to understand what they're doing."

The scarce supply of consistent, well-reported rap journalism is becoming a crisis
Hip-hop, like the world at large, doesn't really care about violence against women. It's not uncommon for artists with serious allegations and/or convictions to enjoy thriving careers. Off the top of my head: Dr. Dre, Kodak Black, Fabolous, XXXTentacion, Playboi Carti, Rich the Kid, Lil Uzi Vert, and Soulja Boy. Sexism and celebrity privilege are neither new nor exclusive to rap music, but the genre's overt criminalization has made fans understandably wary of the justice system: when a major police force like the NYPD has a documented history of targeting rappers, it's easy to dismiss any and all legal proceedings as inherently biased.
The institutional mistrust extends to news organizations, casualties of the algorithmic optimization of the 2010s. Local journalism is in steep decline across the nation; cash flows to digital media have dried up in sync with the wider tech economy. Arts and culture reporting is often first on the chopping block when it comes to cost-cutting, and layoffs disproportionately affect Black writers and reporters. The net result is less and lower-quality coverage of rap and hip-hop.
As coverage at mainstream outlets has decreased, the void has been filled by content creators and faux-journalistic outlets on Instagram and YouTube. Algorithms optimized for attention, good or bad, exacerbated and encouraged voyeuristic appetites for violence as spectacle, rappers as criminal caricatures, and reactionary politics. Now, the same impulses are trickling down to newer platforms and younger audiences: when Tory became too toxic for mainstream media, he retreated to Twitter, Instagram, and Twitch for support.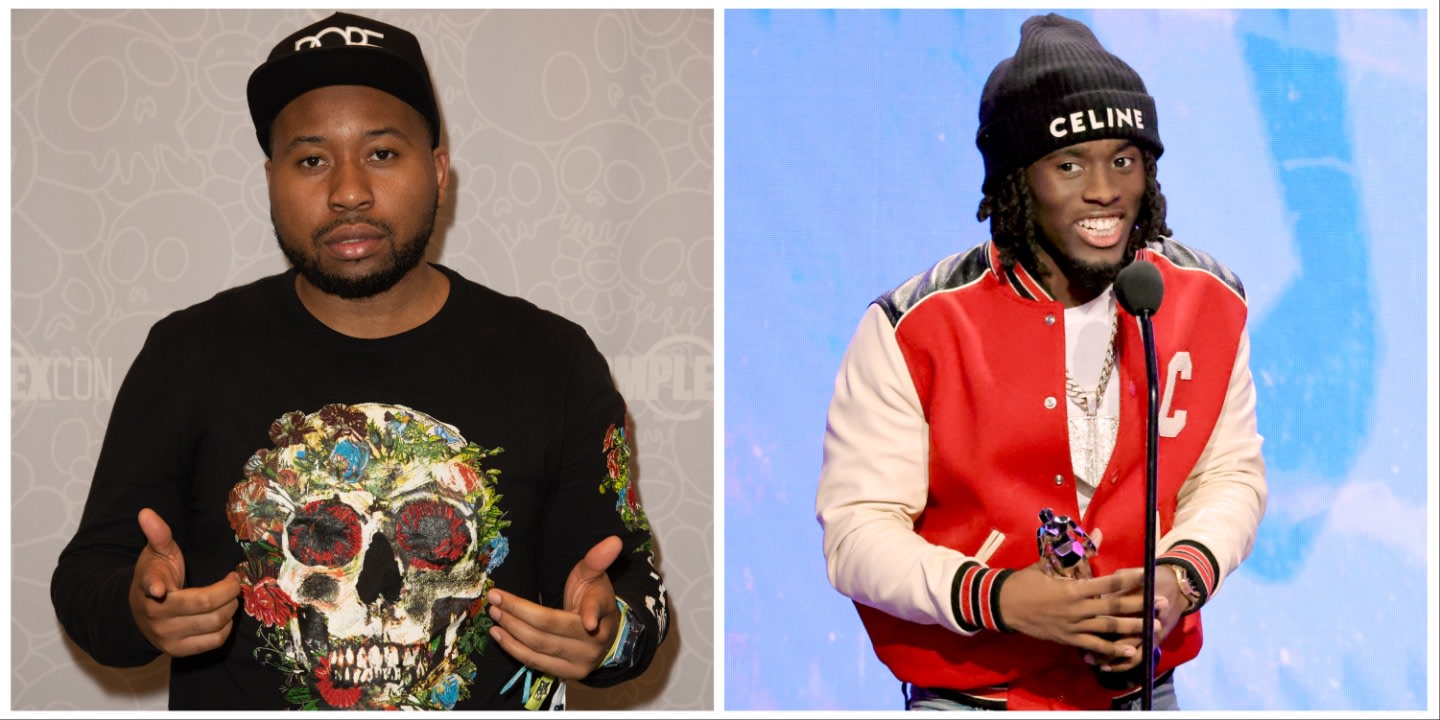 "I was surprised at how focused he seemed to be online," Cuniff told GQ's Heven Haile. "It makes sense when you're an entertainer and your whole livelihood depends on popularity and people being drawn to you. But it doesn't matter in the courtroom at all. I was like, 'These guys seem completely gassed up on Instagram, [Shade Room] comments, and the jury.'"
In 2021, Lanez appeared on Adin Ross's livestream. Ross is close with Andrew Tate and, like No Jumper, has previously platformed white supremacists; Lanez's freestyle on Ross's stream ended up trending on TikTok. Kai Cenat, one of the biggest streamers in the world, was hanging out with Tory Lanez just last year; Cenat, along with fellow megastreamer IShowSpeed, recently inked a deal with right-wing livestream platform Rumble (Akademiks has also signed onto the controversial platform, known for hosting conservative pundits and "funded in part by tech billionaire Peter Thiel and Republican Ohio senator J.D. Vance.") It's no coincidence that the majority of these streamers' viewers are young men in their teens and early 20s, a demographic that is susceptible to online radicalization and are frequently served Manosphere-aligned content and digital misogynoir by social media algorithms.

Local journalism is in steep decline across the nation... The net result is less and lower-quality coverage of rap and hip-hop.
Rap culture's close affinity with capitalism and conservatism isn't exactly novel, but with prominent Black tabloids and hip-hop blogs promoting and aggregating misinformation, the scarce supply of consistent, well-reported rap journalism is becoming a crisis. Twitter and TikTok were already tilted in favor of misinformation, but pushes for increased monetization and tech sector layoffs have allowed bad actors to run rampant. And while readers with longer memories may recall a time before every music website looked like a hybrid of TMZ and PR Newswire, they'd be hard-pressed to find a contemporary alternative to the SEO-optimized slop churned out for ad impressions just about everywhere. That's left plenty of room for unscrupulous infotainment bloggers to stir up outrage and farm clicks.
"When I talk to people about the data around the prevalence and pervasiveness of violence against Black women," Ohio State University Professor Treva Lindsey told Vox back in December, "their jaws drop because they don't really conceive of it as an everyday occurrence… And so they treat it as something to choose a side on... The broad consideration here is that 40 percent of Black women at some point in their lifetime will experience some form of physical violence… getting people to understand the gravity of this problem, the reality of interpersonal violence, and its frequency is an important part of this work."
In May, Megan Thee Stallion wrote about the personal toll of the case in an editorial for Elle. "For years, my attacker tried to leverage social media to take away my power," she wrote. "I persevered, even as people treated my trauma like a running joke.
"First, there were conspiracy theories that I was never shot. Then came the false narratives that my former best friend shot me. Even some of my peers in the music industry piled on with memes, jokes, and sneak disses...
"We can't control what others think, especially when the lies are juicier than the truth. But as a society, we must create safer environments for women to come forward about violent behavior without fear of retaliation… We must do more than say her name."
Women in hip-hop deserve better. Whether hip-hop media will rise to meet the moment is up for debate.
Rap Column is a new column about rap music by Vivian Medithi and Nadine Smith for The Fader.