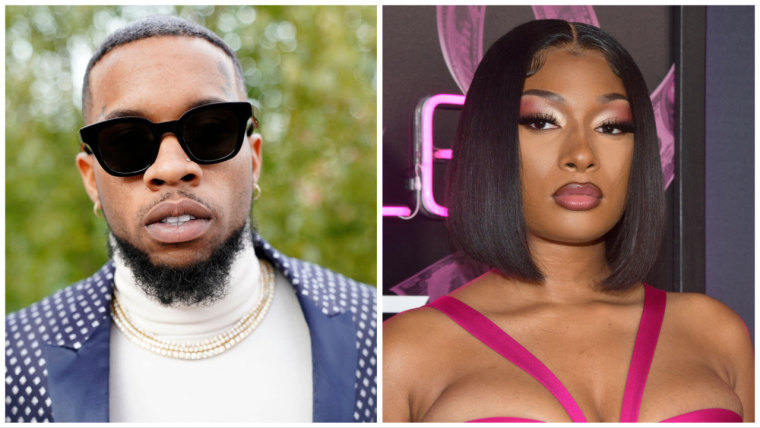 Tory Lanez has been sentenced to 10 years in prison for the 2020 shooting of Megan Thee Stallion. He faced up to 22 years and eight months in prison for his conviction on three felony counts last December, though prosecutors suggested a 13-year sentence. Attorneys for the defense asked that Lanez be released on probation while they attempt to appeal the initial verdict.] The FADER has reached out to attorneys for both Megan Thee Stallion and Lanez for comment.
The shooting case dates back to July 2020 and a pool party at Kylie Jenner's Hollywood mansion. Both Megan Thee Stallion, whose legal name is Megan Pete, and Lanez attended. They, alongside Kelsey Harris and Lanez's security guard, left in a Black SUV to drop Megan and Harris off at the home in which they were staying.
"The defendant and the 24-year-old victim got into an argument while riding in an SUV in the Hollywood Hills," the prosecutors' statement read out during the trial. "The victim exited the vehicle and Peterson is accused of shooting several times at her feet and wounding her."
Lanez was identified during the trial as having "inflicted great bodily injury upon" Megan after the pair got into an argument while riding in an SUV in the Hollywood Hills.
During the trial, his defense attorney argued that Harris shot Megan after he had revealed he had been romantically involved with the "Savage" rapper. He also suggested Roc Nation, Megan's management company, were trying to frame his client.
In December 2022 Lanez, real name Daystar Peterson, was found guilty of assault with a semi-automatic handgun; carrying a loaded, unregistered firearm in a vehicle; and discharging a firearm with gross negligence. Lanez and his legal team delayed the sentencing, which was originally due in January, multiple times by obtaining new attorneys and filing a motion for a new trial. He was denied the latter request and subsequently attempted to have Judge David Herriford dismissed from the case. That appeal was also rejected.
Per freelance reporter Meghan Cuniff's live coverage of Monday's sentencing hearing, the court heard from a jail chaplain who claimed Lanez had started a daily prayer group in prison that had succeeded in "lessen[ing] the tensions between inmates" and that he stood out, in the chaplain's eyes, among the 15,000 inmates in the Los Angeles County Jail. Judge Herriford also reportedly noted that another prison official had sent him a letter advocating for Lanez, claiming he was "remorseful" and had "talked in detail about the [shooting] and what he could have done to prevent it." This was just one of more than 70 letters Herriford said he'd been sent on Lanez's behalf, another of which came from Iggy Azalea (who was criticized last year after announcing Lanez as the executive producer of her next album); her letter apparently contained a request that Lanez's sentence be "transformational, not life-destroying." After hearings lasted longer than expected, sentencing was eventually pushed to Tuesday.
Speaking in an interview with Elle earlier this year, Megan said she had "survived the unimaginable" since the 2020 shooting. "Not only did I survive being shot by someone I trusted and considered a close friend, but I overcame the public humiliation of having my name and reputation dragged through the mud by that individual for the entire world to see," she told the magazine.