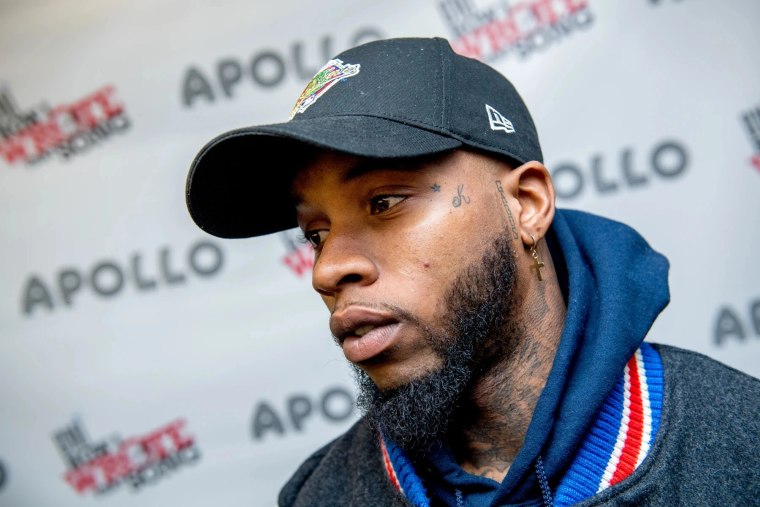 Tory Lanez has shared an open letter to Los Angeles County District Attorney George Gascón. The Canadian rapper, facing up to 20 years in prison having been convicted of shooting Megan Thee Stallion in the foot at a party in 2020, posted the letter to his Instagram feed this morning. He asks Gascón to grant his request for a new trial, which was filed in March and will be decided on May 8.
"Today I take a stance as an innocent Black Man," Lanez continues, "wrongfully convicted of a crime I DID not commit." The letter goes on to accuse two district attorneys in Gascón's office of "unlawfully [misuing] their authority to hide and suppress any and all exculpatory evidence that exonerates me, or furthers my innocence."
In the post's caption, Lanez suggests that he will share material linked to his first trial that he claims will exonerate him. "Until my court date I'll be posting the OUTRAGEOUS & DISGUSTING INJUSTICES used against me by the PROSECUTION to get the conviction they so DESPERATELY wanted, DESPITE the evidence they knew existed." Soon after the shooting, Megan Thee Stallion directly identified Tory Lanez as her attacker.
Read the full letter below:
This week, Megan Thee Stallion discussed the shooting with Elle magazine in what she says will be her final public comment on the topic. She opened up about her struggles with the trauma and public perception in the aftermath of her injuries. "It never crossed my mind that people wouldn't believe me," Megan wrote. "When the guilty verdict came on Dec. 23, 2022, it was more than just vindication for me, it was a victory for every woman who has ever been shamed, dismissed, and blamed for a violent crime committed against them."
The FADER has reached out to the Los Angeles County District Attorney's office for comment.