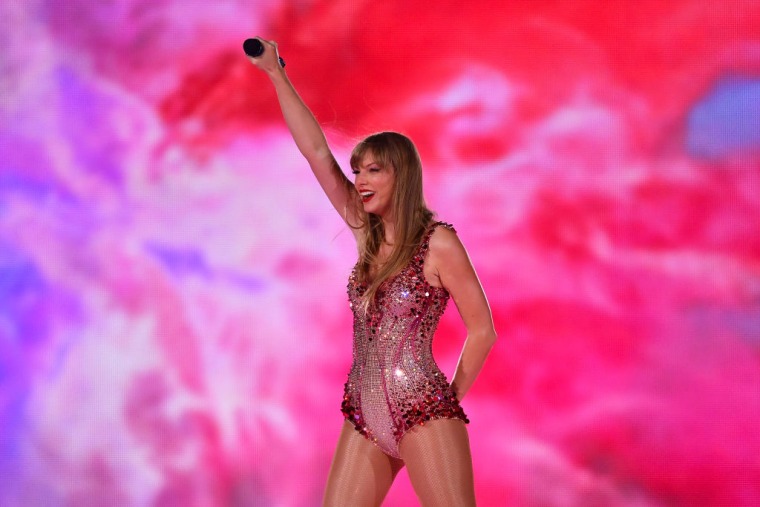 Taylor Swift has become the latest artist to ask that fans don't throw items onto the stage during live shows, telling her audience at a show in Argentina that it "freaks me out" when it happens.
Swift was performing in Buenos Aires on Sunday night when she interrupted her Era Tour date to address the audience, some of whom had thrown gifts in her direction.
"Because communication means having gentle, healthy boundaries, it really freaks me out when stuff gets thrown on the stage, because if it's on the stage then a dancer can trip on it," Swift said. "I love that you brought presents and that is so nice, but just can you please not throw them on the stage. I love you so much."
🏟️| Taylor very kindly asking the crowd to not to throw things on stage 🫶 #BuenosAiresTSTheErasTour

"And just because communication means having gentle healthy boundaries - it really freaks me out when stuff gets thrown on the stage. Because if it's on the stage then a dancer… pic.twitter.com/ZIY5Vxzajw

— Taylor Swift Updates 🩵 (@swifferupdates) November 13, 2023
The tension between fans and artists when it comes to throwing things at live shows has been a big issue in 2013. Bebe Rexha, Kelsea Ballerini, and Harry Styles were all hit while performing, while multiple Pink concerts were interrupted by fans bearing unique gifts. Cardi B threw a microphone at an audience members who threw their drink at her, while Adele threatened to go further if anyone threw anything at her.
Swift was performing in Argentina as her blocbuster Eras Tour makes its way across South America. She played two nights at the Estadio River Plate with six shows in Brazil to follow later this month.
Last week Swift picked up six Grammy nominations, tying the record (alongside Barbra Streisand) for most nominations in the Album of the Year category for a female artist in the process. Her album Midnights will compete with efforts from Boygenius, SZA, Lana Del Rey, Olivia Rodrigo, and others at next year's ceremony.