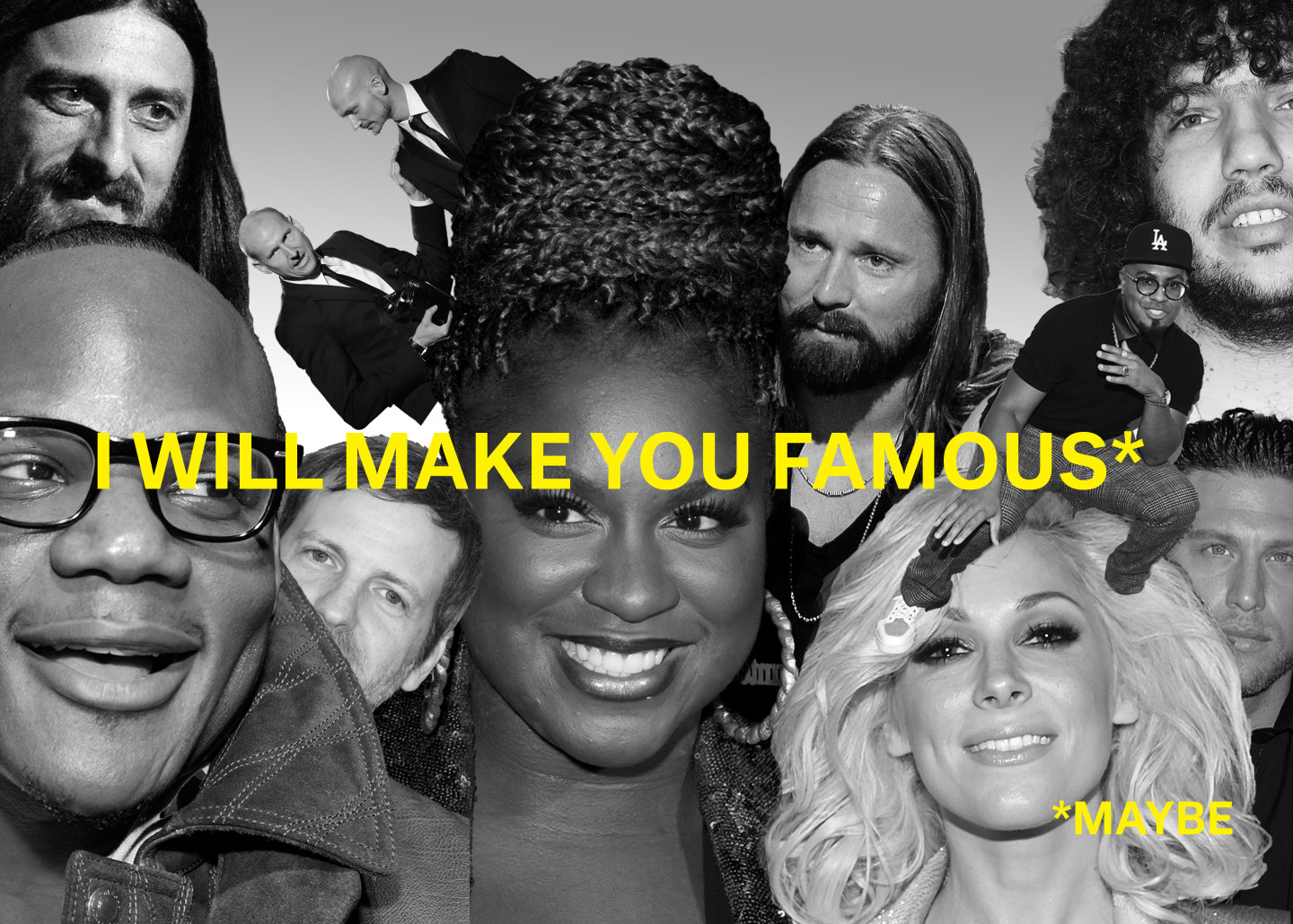 In November 2015, Ellie Goulding's "On My Mind" crashed into the Top 40 on the Billboard Hot 100 and peaked at No. 13. "On My Mind" is a catchy electro-pop tune with a "Message In A Bottle"-esque riff at its core; the lyrics (maybe) allude to a certain relationship with a certain famous someone who also wrote a song about said relationship. Around that same time, Ariana Grande's "Focus" climbed into the Billboard Top 10 with its horn-driven chug. Only a month later, Selena Gomez's minimalist jam "Hands to Myself," with its breathy, coquettish vocals, reached No. 7. The three hit singles are all very different but they have one key thing in common: they were all produced by Max Martin.
While stars like Beyoncé, Rihanna, and Taylor Swift are the face and voice of songs that own the airwaves, there is an elite class of pop producers and songwriters helping to construct their sound. Martin and his peers churn out music for the masses, operating tirelessly behind the curtain to make melodies that worm their way into your brain, and shopping them around to the biggest artists available in hope of landing one more hit. But what are the odds that a great pop songwriter or super-producer will land that next hit? Here's a way to crunch the numbers.
The Logic
There are many measures of success in the music industry—among them, the RIAA certification and award ceremonies like the Grammys—but there's none greater than charting a big Top 40 hit on the Billboard Hot 100. It is the ultimate gauge of a song's popularity and the standard by which superstars are assessed. The Hot 100, which started tracking weekly sales when Nielsen did in 1991, validates pop's hit makers and is now tabulated from Nielsen SoundScan results and streaming data. (The RIAA has recently followed suit.)
In order to figure out the raw odds that their next song will be a hit, I took the most accomplished pop super-producers and songwriters of this millennium and divided their biggest charting hits by their total number of credits and placements. It's an abstract way to predict the likelihood of a chart success story. There are obviously other factors involved—Rihanna is more likely to land a hit on name recognition alone than some major label newcomer, and a show like Glee distorts some artists' numbers (when Glee covers of hit songs chart, the artist, producer, and writer also get credited for its success)—but, if taken with a grain of salt, it can be a interesting look at how hard it is to chart big, even for the top-tier industry vets.
The Criteria
To establish which producers and songwriters should be recognized, these are the rules of eligibility:
1. Must have at least 100 published credits.
2. Must be credited as either a writer, producer, or both.
3. Must have at least three No. 1 hits on the Billboard 100.
4. Can't have more than three charting Billboard 100 hits as an artist themselves.
The Formula
Hit Percentage = Total Published Credits ÷ Charted Songs, Produced or Written.
The Result
These eleven pop luminaries below will give you the best shot at a hit song. The data is provided side-by-side with their resumés. Some insights into the music business arise from simply selecting and grouping these hitmakers together. One easily recognizable trend is that the producers and songwriters on the list seem to cross paths often, suggesting that pop's hit machine is generally a collaborative effort. The findings support the widely-substantiated belief that the industry is overwhelmingly white and male, and that there is a barrier to entry for female producers; the only two women on the list are songwriters. The numbers also suggest that no matter who you are, it's very difficult to make a hit song: No super-producer or songwriter gives an artist more than a 6% chance of landing a No. 1, or more than a 15% chance of landing a Top 10 hit.
Max Martin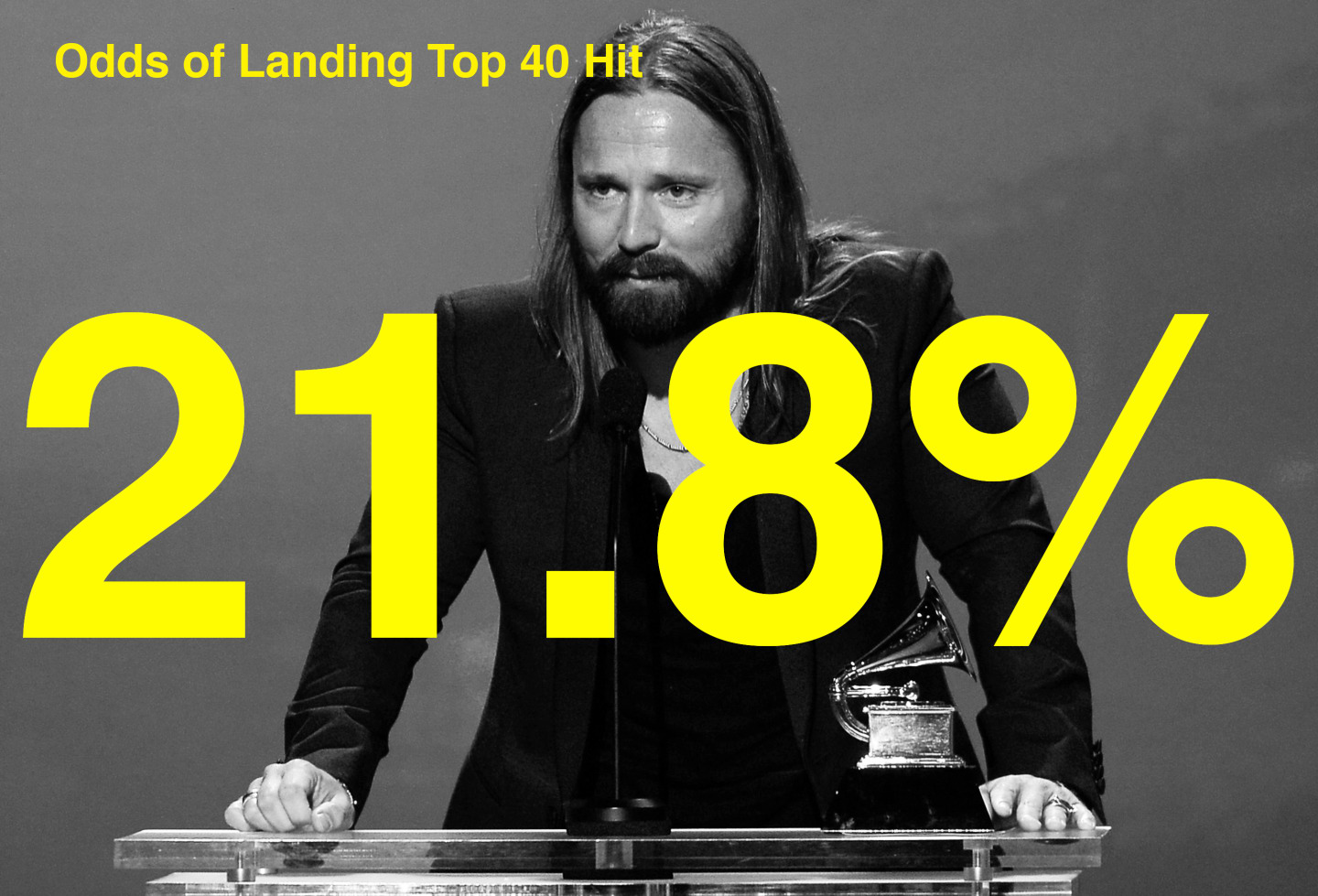 Published credits: 390
Accolades: 8x ASCAP Songwriter of the Year, 2015 Grammy for Producer of the Year
Total No. 1 hits: 21
Odds of landing a No. 1 hit: 5.4%
Total Top 10 hits: 62
Odds of landing a Top 10 hit: 15.9%
Total Top 40 hits: 85
Odds of landing a Top 40 hit: 21.8%
As you might guess, super-producer Max Martin—who is closing in on both the late, great producer George Martin and songwriters Paul McCartney and John Lennon for most No. 1 records written and produced—is an artist's best shot at landing a hit. Originally from Stockholm, Sweden, he fronted a glam metal band called It's Alive in the '80s and '90s, where he met producer Denniz PoP (Ace of Base) who helped him transition into writing and producing for other artists. After working at Stockholm's Cheiron Studios and getting hired to write Backstreet Boys' multiplatinum hit "Quit Playing Games (With My Heart)" with British producer Herbie Crichlow, he made a name writing for the pop group. Many of his songs are laced with icy Europop synths, and early material included influential dance-pop jams that pulled from funk.
Martin scored early chart toppers with pop royalty like Britney Spears ("...Baby One More Time") and *NSYNC ("It's Gonna Be Me") and a string of Top 10 hits with the Backstreet Boys. But it wasn't until the mid-aughts that he hit his stride, producing and writing songs for Pink, Kelly Clarkson, and Katy Perry (most notably "Since U Been Gone," "Who Knew," and "I Kissed A Girl"). More recently he's aided Taylor Swift in her pop crossover-turned-takeover, co-writing and producing 1989's three No.1 singles. Last year—in addition to his previously noted work for Ellie Goulding, Ariana Grande, and Selena Gomez—he helped The Weeknd cap off his pop makeover with the No.1 single "I Can't Feel My Face" (Weeknd's recent hit, "In The Night," landed as high as No. 12).
Bonnie McKee
Published credits: 136
Total No. 1 hits: 5
Odds of landing a No. 1 hit: 3.6%
Total Top 10 hits: 7
Odds of landing a Top 10 hit: 5.1%
Total Top 40 hits: 9
Odds of landing a Top 40 hit: 6.6%
Seattle-raised singer-songwriter Bonnie McKee signed with Warner Bros. at 16, and released a solo album before writing for her longtime friend, Katy Perry. Having worked alongside Max Martin and Dr. Luke, McKee was an essential part of the hit factory behind Perry's incredible run in the '10s, which helped to define the sound of contemporary bubble-gum pop, American-girl anthems. She provided songwriting assistance on Perry's biggest hits: "California Gurls," "Last Friday Night (T.G.I.F.)," "Part of Me," "Roar," and "Wide Awake." She also co-wrote the Taio Cruz smash "Dynamite" and Britney Spears's "Hold It Against Me." McKee pens lyrics with universal appeal. The core ideas of many of her songs could speak to anyone, themes like self-empowerment or simply letting loose on a dance floor. They're anthemic, specifically constructed for group sing-a-longs in cars and sold-out arenas.
Dr. Luke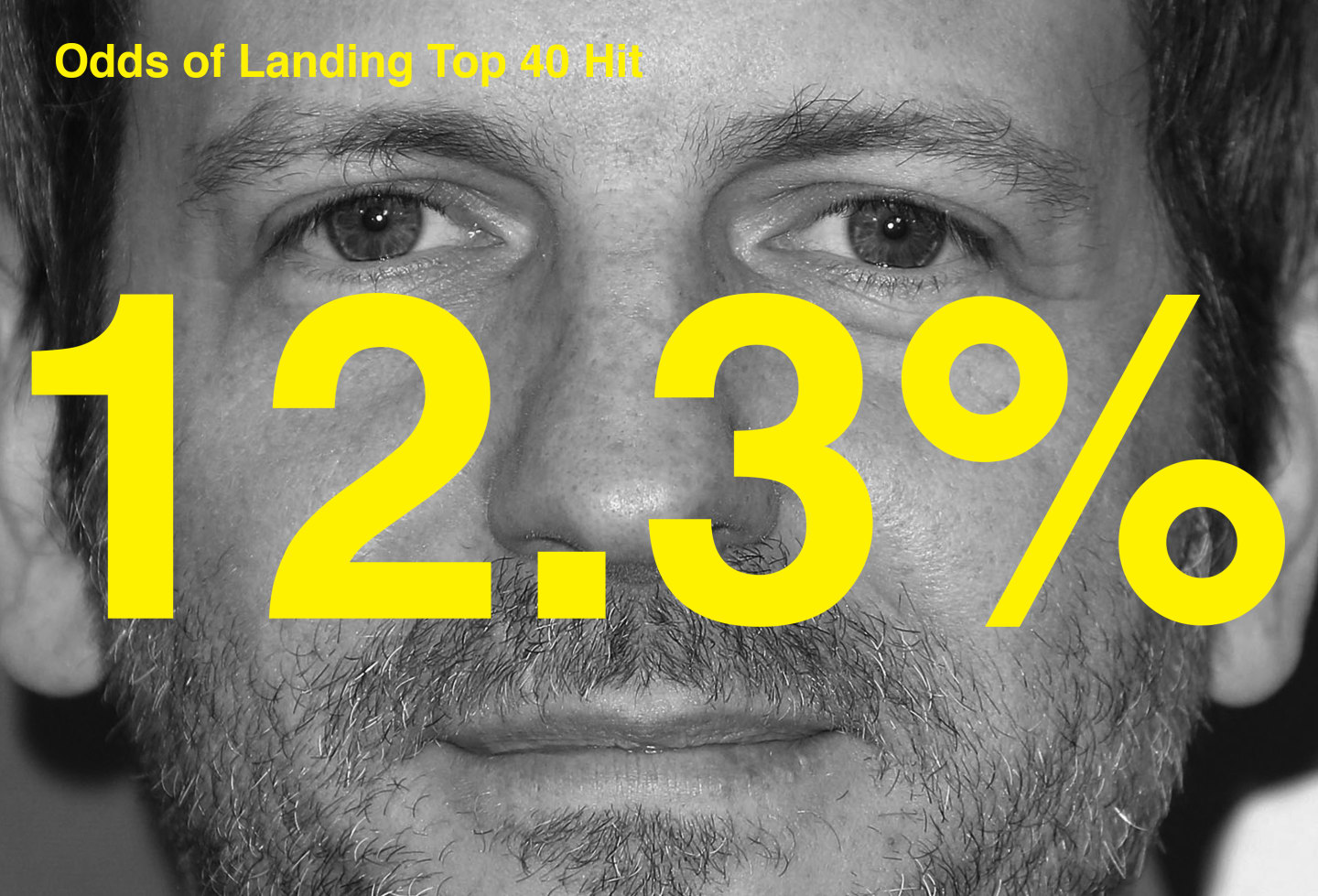 Published credits: 480
Accolades: 2x ASCAP Songwriter of the Year
Total No. 1 hits: 17
Odds of landing a No. 1 hit: 3.5%
Total Top 10 hits: 38
Odds of landing a Top 10 hit: 7.9%
Total Top 40 hits: 59
Odds of landing a Top 40 hit: 12.3%
Lukasz Gottwald, or Dr. Luke, earned several hits in the early-to-mid 2000s writing and producing alongside Martin on Top 10s for American Idol's breakout star Kelly Clarkson and the Backstreet Boys. His first solo hit—Lady Sovereign's "Love Me or Hate Me"—landed just outside the Top 40. He's continued to work with Martin on and off, helping to produce singles for Katy Perry, Nicki Minaj, and Jessie J, among others. He first began to distinguish himself as a super-producer in his own right in 2007 with the Avril Lavigne chart-topper "Girlfriend," and reasserted his production wizadry in 2009 with Kesha's "TiK ToK," which remains his biggest single to date.
Dr. Luke's sound is electro-pop with isolated, sometimes minimalist synth progressions, but those progressions can take on many different forms: from the rock-flecked bulge of Maroon 5's "Sugar" to the 8-bit chirp of "Tik Tok." When working with Martin, he tends to conform to his tendencies, creating big-sounding dance hits that almost preemptively feel like chart-toppers. Kesha, the most successful signee of Luke's Kemosabe label, helped to establish him as a dominant force in production with a string of Top 10 hits—"Take It Off," "Blow," "Die Young," and "We R Who We R"—and with features on Flo-Rida's "Right Round" and Pitbull's "Timber." In October 2014, however, Kesha sued Dr. Luke for sexual assault, seeking to be liberated from her contract and her alleged rapist. Luke refuses to allow that to happen, most likely because Kesha is the foundation of his brand, and without her he loses quite a bit of latitude with Sony. Kesha is currently appealing a New York judge's decision to deny her right to leave the contract.
Once sold by executive Doug Morris as the next Jimmy Iovine, Dr. Luke has yet to live up to that billing. More recently, he has produced a slew of seemingly unlikely Top 20 singles—Nicki Minaj's "Only," Becky G's "Shower," and Usher's "I Don't Mind"—as well as Pitbull's "Time of Our Lives," R. City's "Locked Away," and Maroon 5's "Sugar," which made it has high as No. 2.
Read more about how Dr. Luke has become pop's foremost svengali.
Jeff Bhasker
Published credits: 142
Accolades: 3x Grammys
Total No. 1 hits: 21
Odds of landing a No. 1 hit: 5.4%
Total Top 10 hits: 62
Odds of landing a Top 10 hit: 15.9%
Total Top 40 hits: 85
Odds of landing a Top 40 hit: 11.3%
Longtime Kanye West co-producer and writer Jeff Bhasker transitioned seamlessly from early work on rap albums like Game's The Documentary and Jay Z's Blueprint 3 to pop smashes with Bruno Mars, Pink, and fun. Working with Kanye led to playing keyboards on Drake's "Find Your Love" and early-career highlight "Run This Town" with Jay Z and Rihanna. That relationship also produced Top 40 Kanye singles like "Power," "Runaway," and "All of the Lights." Jeff Bhasker is a rap guy first and foremost, but he's also mastered the pop ballad. Working alongside Kanye, whose projects are always grand presentations, has given him a certain flair for the dramatic. His songs seem almost theatrical and built for stage productions.
His hits outside of the Kanye camp have all been sorrowful, slow-moving tunes, with the exception of Alicia Keys' bellowing "Girl On Fire," which explodes for the chorus. He also worked with Keys on the Top 40 hit "Try Sleeping With a Broken Heart." Bhasker produced the majority of fun.'s sophomore album Some Nights, which included the Top 10 title track and the No. 1 single "We Are Young." It also spawned a Jack Ruess duet with Pink ("Just Give Me A Reason") that went to No. 1.
Benny Blanco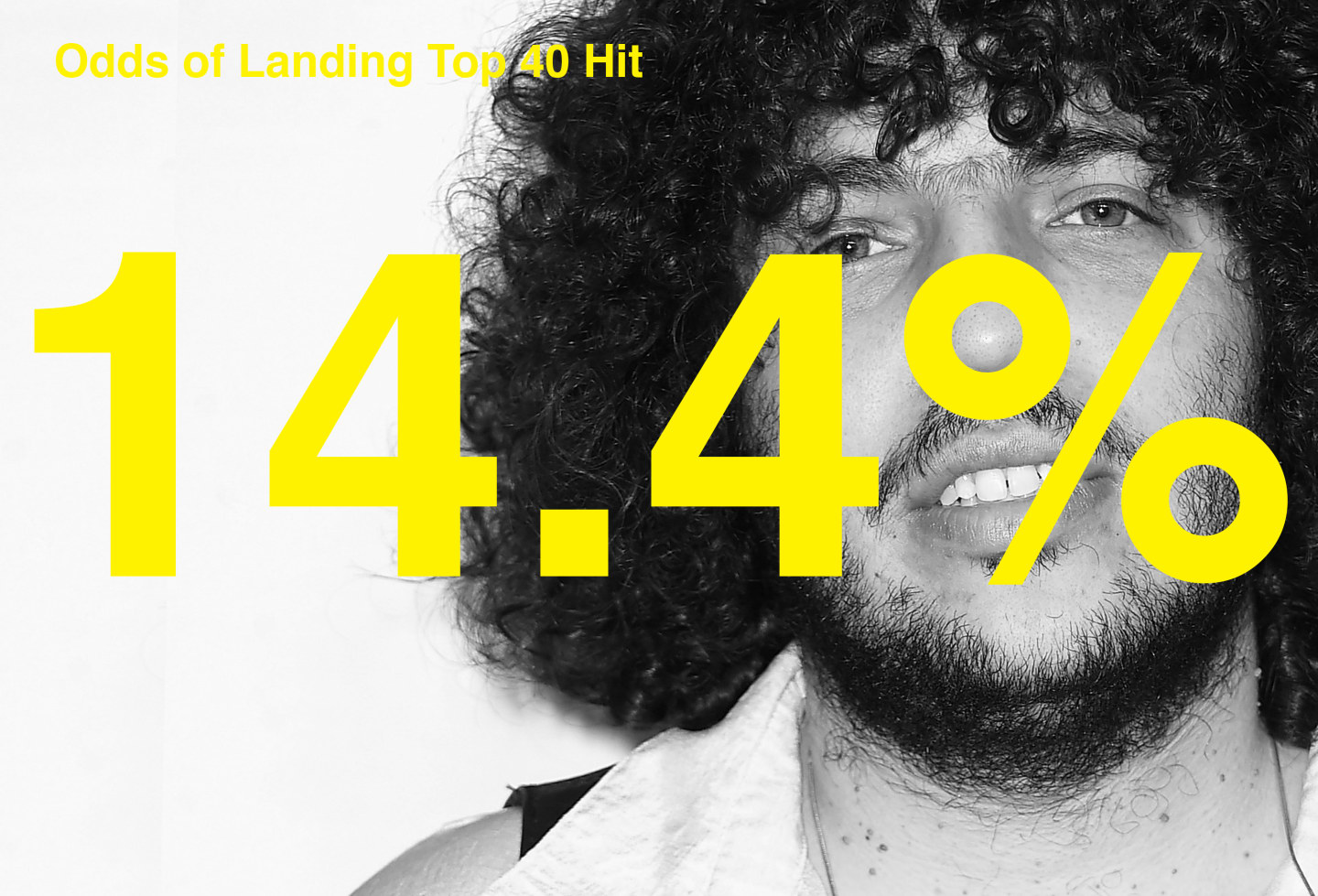 Published credits: 215
Accolades: 2x BMI Songwriter of the Year, 2x Grammys
Total No. 1 hits: 6
Odds of landing a No. 1 hit: 2.8%
Total Top 10 hits: 21
Odds of landing a Top 10 hit: 9.8%
Total Top 40 hits: 31
Odds of landing a Top 40 hit: 14.4%
It may come as a bit of a surprise that Virginia-born, New York-based Benny Blanco, a mentee of Dr. Luke, has high hit percentages. A rapper and musician, Blanco first broke through as a pop producer with 3OH!3's "Don't Trust Me" and Britney Spears' "Circus" in 2008, both of which charted in the Top 10. He's written alongside Martin, StarGate, and Luke, scoring his first No. 1 co-producing Kesha's mega-hit "TiK ToK." But he's been the producer of note on a slew of songs, working without Luke or Martin on Top 10 chart-busters for Wiz Khalifa ("No Sleep"), Gym Class Heroes ("Stereo Heart"), and Ed Sheeran ("Don't"). His biggest successes, however, have come working with Maroon 5: "Maps" (No. 6), "Animals" (No. 3), "Payphone," and the colossal "Moves Like Jagger" (No. 1). He most recently topped the Billboard chart with Justin Bieber's "Love Yourself."
Sean Garrett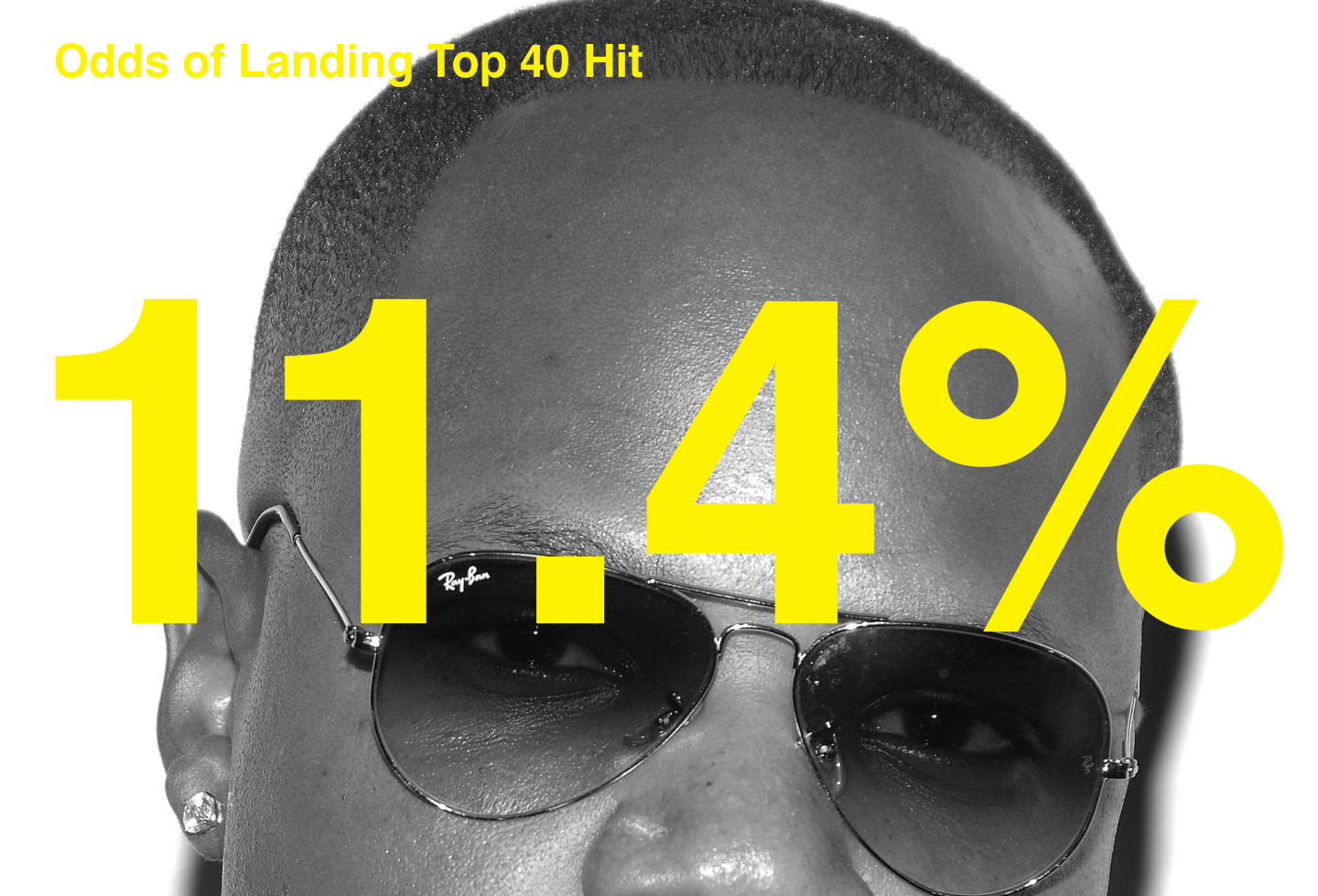 Published credits: 228
Accolades: 2x BMI Songwriter of the Year, 2x Grammys
Total No. 1 hits: 5
Odds of landing a No. 1 hit: 2.2%
Total Top 10 hits: 10
Odds of landing a Top 10 hit: 4.4%
Total Top 40 hits: 26
Odds of landing a Top 40 hit: 11.4%
Born into a military family, songwriter Sean Garrett performed at talent shows in Europe and scored a record deal with Ariola/BMG before moving back the the States to write songs. From 2004 to 2006, he was virtually untouchable. He penned Usher's colossally successful "Yeah," Ciara's debut "Goodies," and Destiny's Child's "Lose My Breath" and "Soldier" in one year, and each landed in the Top 5. He was influential in R&B's mid-'00s transition from dominant music property to rap appendage, and he helped meld the two genres together by writing and producing R&B songs with a hip-hop ethos. Chris Brown's "Wall to Wall" and Beyoncé's "Upgrade U" helped to take R&B into a new age, finding common ground in the soul root both genres share. In 2005, Garrett found his way into the Top 40 three straight times before again topping the charts with Brown's "Run It" and Beyoncé's "Check On It." The following year he wrote "Gimme That" for Brown, Kelis's "Bossy", Beyoncé's "Ring the Alarm", "Buttons" by The Pussycat Dolls, and Fergie's "London Bridge," which peaked at No. 1 on the Hot 100. In more recent years, he's seen success with Young Money, Mario, and A$AP Rocky.
StarGate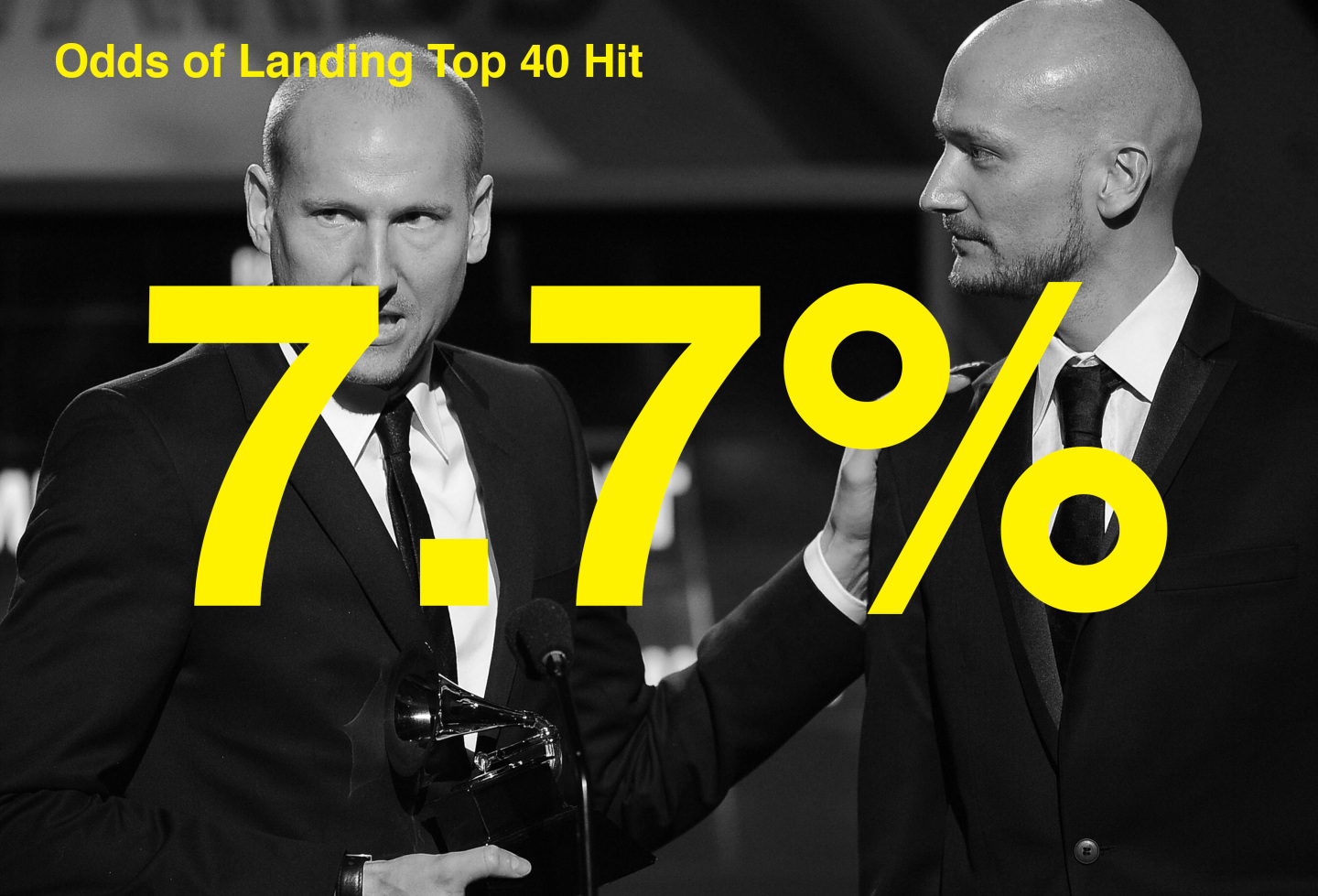 Published credits: 506
Accolades: 2x BMI Songwriter of the Year, 2x Grammys
Total No. 1 hits: 10
Odds of landing a No. 1 hit: 2%
Total Top 10 hits: 24
Odds of landing a Top 10 hit: 4.7%
Total Top 40 hits: 39
Odds of landing a Top 40 hit: 7.7%
The Norwegian production duo of Tor Erik Hermansen and Mikkel Storleer Eriksen, known as StarGate, got their start producing U.K. pop group S Club 7's international hit "S Club Party" in 1999. StarGate likes to kick up the tempo with punchy dance rhythms. Their early production was rooted in Europop, but they've since developed their own signature sound: R&B-tinged pop epics. They're no strangers to producing straight-up R&B ballads, either, mostly centered around relationship cycles, breaking up and making up. Their music is characterized by soaring melodies and unforgettable hooks.
After a string of U.K. hits in the early 2000s, the production team hit it big back-to-back with the Hot 100-topping Ne-Yo debut "So Sick" and the Top 10 Rihanna song "Unfaithful." From there, they produced Beyoncé's No. 1 2006 smash "Irreplaceable" and Ne-Yo's "Because of You" in 2007. That year, they charted eight songs in the Top 20. Since then they've produced eight No. 1s: Rihanna's "S&M," "Only Girl," "Take A Bow," "Rude Boy," "What's My Name," and "Diamonds"; Wiz Khalifa's "Black & Yellow"; and Katy Perry's "Firework," working closely with songwriter Ester Dean on several of them. They landed a surprise Top 10 spot with the Ylvis' joke song turned viral sensation "What Does the Fox Say?" and have had more good fortune with Iggy Azalea ("Black Widow") and Fifth Harmony ("Worth It"). In January, StarGate broke the Top 10 again when Selena Gomez's "Same Old Love" peaked at No. 6.
Philip Lawrence (of The Smeezingtons)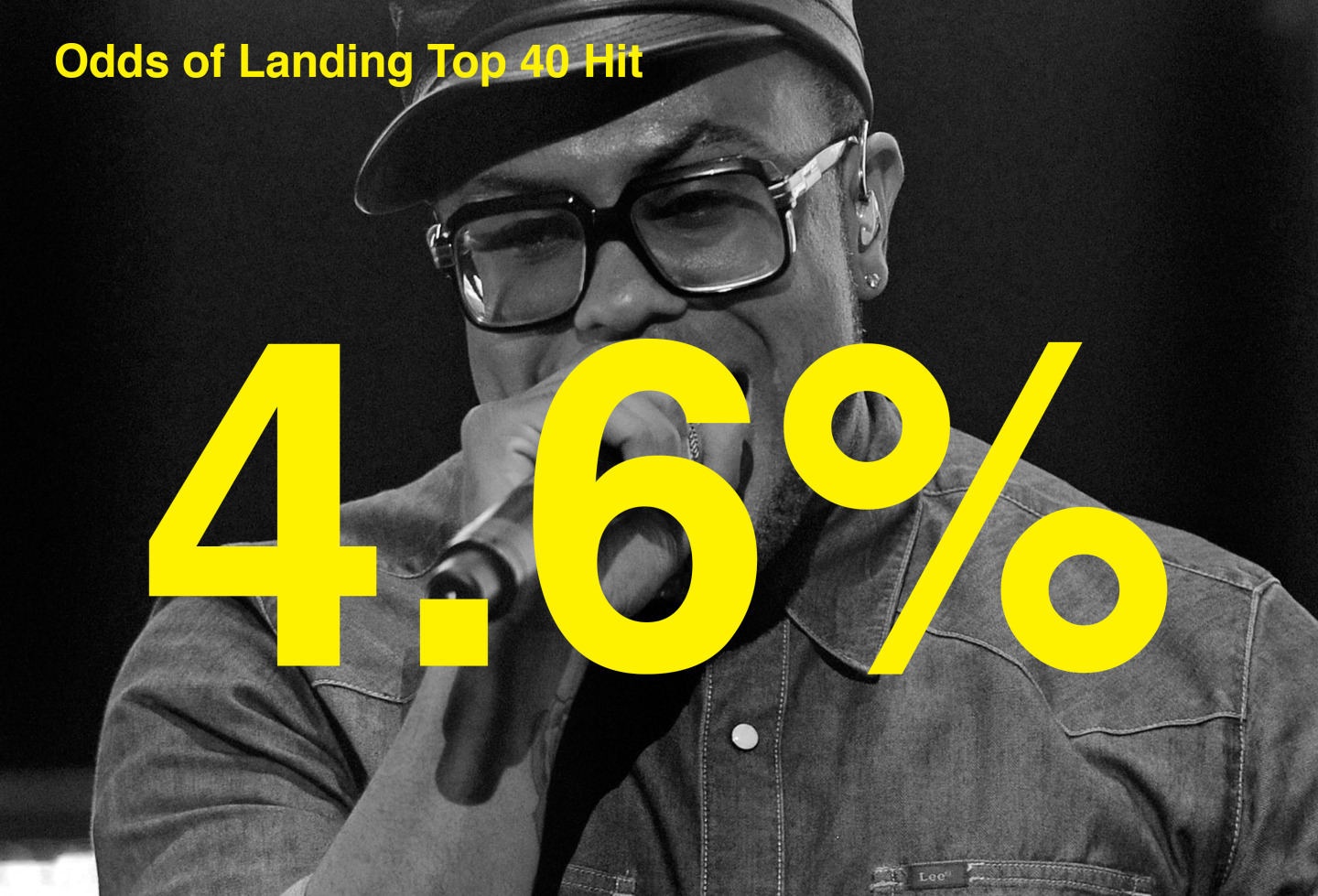 Published credits: 479
Accolades: 2x BMI Songwriter of the Year, 2x Grammys
Total No. 1 hits: 7
Odds of landing a No. 1 hit: 1.5%
Total Top 10 hits: 15
Odds of landing a Top 10 hit: 3.1%
Total Top 40 hits: 22
Odds of landing a Top 40 hit: 4.6%
A producer friend pushed Philip Lawrence to meet Bruno Mars in 2006 to help write songs for Mars' solo career, but the pairing proved unfruitful until an A&R for Puerto Rican boy band Menudo asked them for some songs (which produced the Menudo single, "Lost"). Not long after, they formed the songwriting and producing team The Smeezingtons with Ari Levine, and together the trio has co-written or produced many Mars hits ("Grenade," "Locked Out of Heaven," "Treasure," "It Will Rain," "Just the Way You Are," "When I Was Your Man," and "The Lazy Song"), as well as hits he featured on (B.o.B.'s "Nothin On You," Travie McCoy's "Billionaire," Bad Meets Evil's "Lighters," Snoop Dogg & Wiz Khalifa's "Young, Wild, & Free"). Most recently, Lawrence and Mars teamed up with Jeff Bhasker to write Mark Ronson's "Uptown Funk," which dominated the charts last year with a fourteen week run. Six of those songs went to No. 1. The rest went Top 10.
Lawrence's music and lyrics pull from an eclectic group of influences: blues, reggae, R&B, funk, new jack swing; signature sounds of the '80s, but also signature sounds of early '00s rap. They're mostly melody heavy with unassuming arrangements that allow the vocalist (usually Bruno Mars) to forge the direction and feel of the song with their tone. Lawrence has also worked on a few songs you may not have expected: Far East Movement's "Rocketeer," Cee Lo Green's "Fuck You!," and the Flo-Rida chart-topper "Right Round" (with Dr. Luke).
Ester Dean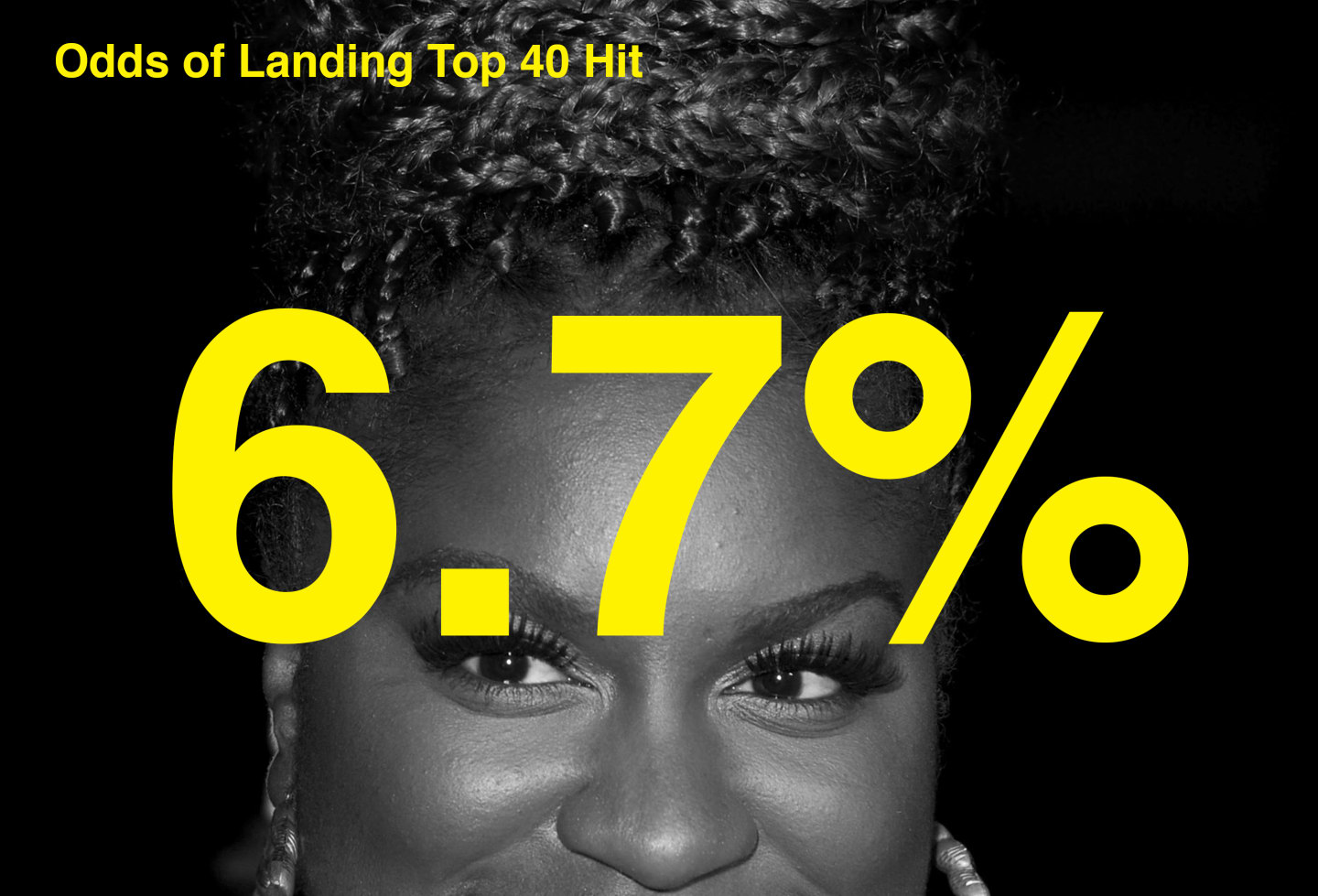 Published credits: 229
Total No. 1 hits: 4
Odds of landing a No. 1 hit: 1.3%
Total Top 10 hits: 9
Odds of landing a Top 10 hit: 3%
Total Top 40 hits: 20
Odds of landing a Top 40 hit: 6.7%
In hope of breaking big, Ester Dean moved from Oklahoma to Atlanta, where she met Tricky Stewart and signed a small publishing deal. She is perhaps best known for co-writing Nicki Minaj's perfect pop-rap confection, "Super Bass," which went 8x platinum and peaked at No. 3 on the Hot 100. Even before that, Dean had already penned three No. 1s for Rihanna ("Rude Boy," "What's My Name?" and "S&M") and one for Katy Perry ("Firework"). Her talent is best illustrated in the differences between Katy Perry's "Firework" and "Peacock" or Rihanna's "What's My Name?" and "S&M," two pairs of songs that she wrote that scan from soaring to suggestive.
Dean is a versatile lyricist who can subtly slip sex-positive ideas into chart-topping hits. She's worked on dance bangers for Beyoncé and Christina Aguilera, and R&B hits for Usher, Mary J. Blige, and Robin Thicke. The Minaj connection has reaped dividends, resulting in Usher's "Lil Freak," Sean Kingston's "Dutty Love," and a handful of stray Minaj singles. Dean also produced left field Top 40 successes for Kelly Clarkson ("Mr. Know It All") and T.I. ("Remember Me"), but her most recent hit was her biggest curveball: Selena Gomez's "Come & Get It."
J.R. Rotem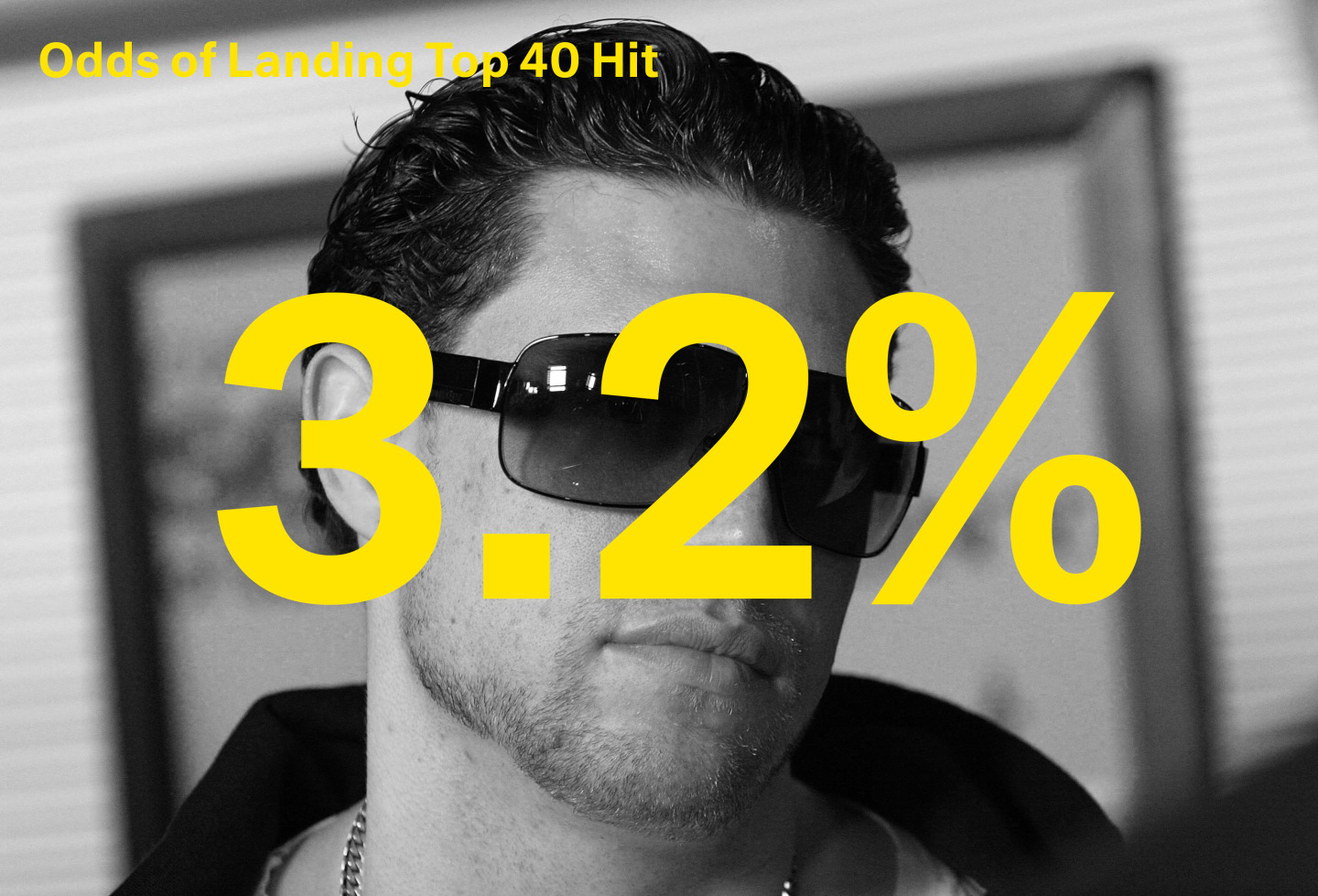 Published credits: 500
Total No. 1 hits: 3
Odds of landing a No. 1 hit: 0.6%
Total Top 10 hits: 10
Odds of landing a Top 10 hit: 2%
Total Top 40 hits: 16
Odds of landing a Top 40 hit: 3.2%
Born in South Africa but raised in Toronto and California, producer and publisher J.R. Rotem turned a degree from the Berklee College of Music into a placement on Destiny's Child's third album, Survivor. He arrived on the charts with a No. 1: Rihanna's "SOS" in 2006. He is best known for producing hits for the artists on his own Beluga Heights label: Sean Kingston, Iyaz, and Jason Derulo. Rotem's songs have a distinctly island flavor, mostly because he's worked with artists from Barbados, Jamaica, and the Virgin Islands. His productions often carry reggae fusion vibes, but he's capable of stepping outside of that and onto rap and pop rock terrain. His early hits with Derulo were synthpop gems that used familiar samples like The Verve's "Bittersweet Symphony" and Imogen Heap's "Hide & Seek."
In 2007, he produced a trio of songs for Sean Kingston: "Take You There," "Me Love," and "Beautiful Girls," the latter of which topped the charts. In 2009, he produced the 3x platinum Iyaz hit "Replay" and followed it up with a Top 40 track in "Solo." In between establishing those two artists, he produced an interesting assortment of hits for Rick Ross ("The Boss"), Plies ("Bust It Baby Pt. 2"), and Leona Lewis ("Better In Time"). His biggest success came with Derulo in 2010 on three Top 10 singles: "Ridin Solo," "In My Head," and "Whatcha Say," which went No. 1. Rotem continued to produce a wide array of hits for The Ready Set ("Love Like Woe"), Nicki Minaj ("Fly"), and Fall Out Boy ("Centuries") before going on to produce songs for Fox's industry melodrama, Empire.
Tricky Stewart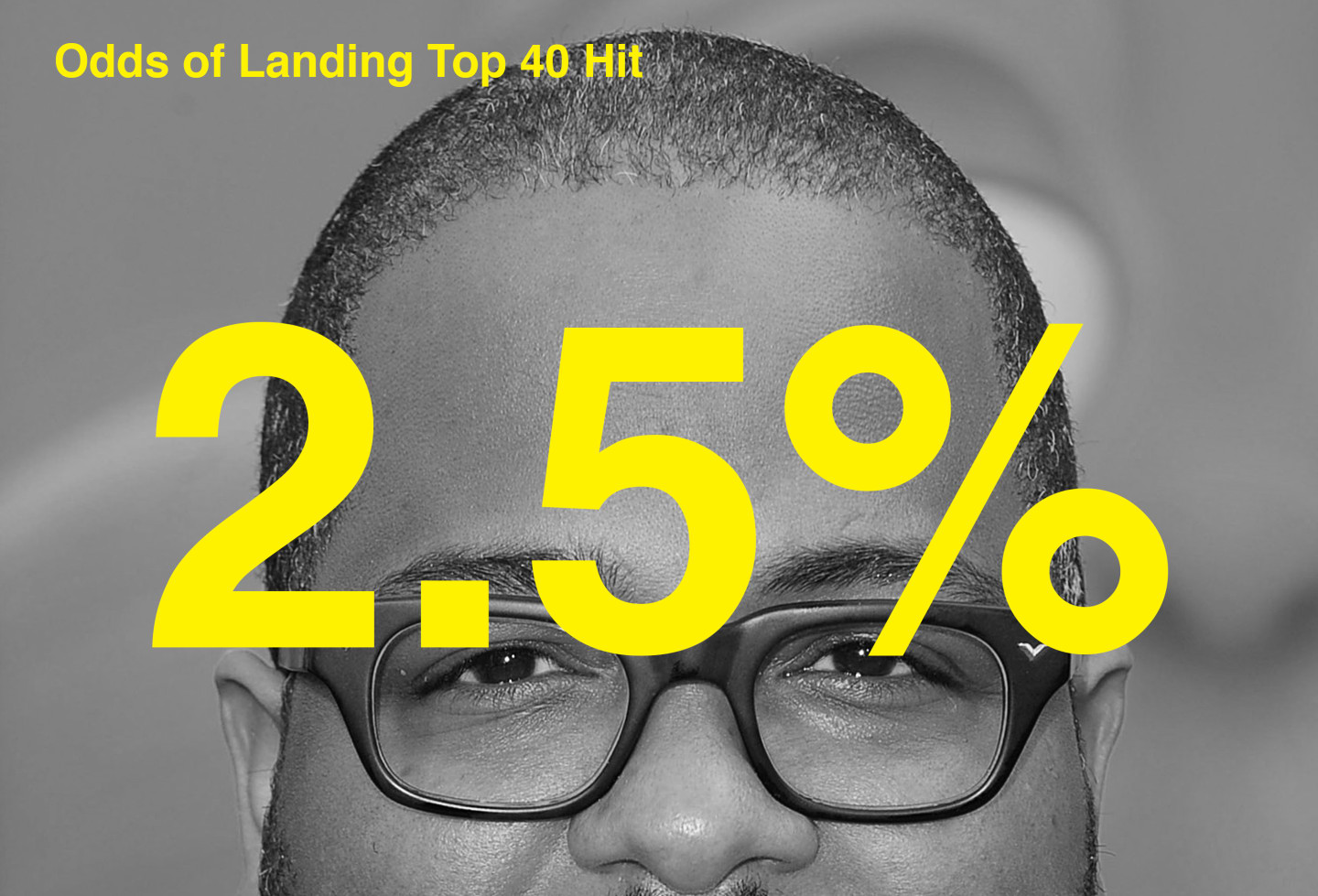 Published credits: 747
Accolades: 3x Grammys
Total No. 1 hits: 3
Odds of landing a No. 1 hit: 0.4%
Total Top 10 hits: 9
Odds of landing a Top 10 hit: 1.2%
Total Top 40 hits: 19
Odds of landing a Top 40 hit: 2.5%
Tricky Stewart is a songwriter and record producer who was once an A&R at Epic Records. He co-wrote and produced three of the biggest singles of the late-aughts: Rihanna's "Umbrella," Mariah Carey's "Touch My Body," and Beyoncé's "Single Ladies (Put A Ring On It)." In between those, he's produced Top 10s for Justin Bieber ("Baby"), Jesse McCartney ("Leavin'), Mya ("Case of the Ex"), and JT Money ("Who Dat"). He also produced Rihanna's "Hard" and Mariah's "Obsessed." Tricky has brought several artists Top 40 success, including B2K, Brooke Valentine, J. Holiday, Fabolous, and The-Dream (who is a prolific songwriter in his own right).
A staple of the R&B charts, Tricky has scored Top 40 hits with Mary J. Blige and Ciara. The producer is just as good at making groove R&B joints as he is at making pop smashes. He essentially defined the early sounds of Bieber and B2K, two different brands of teen-pop designed to appeal to specific subsets of music fans. He also has a very particular method of making R&B songs—or songs heavily influenced by the genre—translate to pop audiences.
All credit and chart data correct as of March 31, 2016. Credit info: BMI database, ASCAP's ACE database, independent publishing firms. Chart info: Billboard, cross-checked with third-party chart databases.