The best new Afro-Trap
An epic playlist celebrating the diasporic genre's freshest tunes.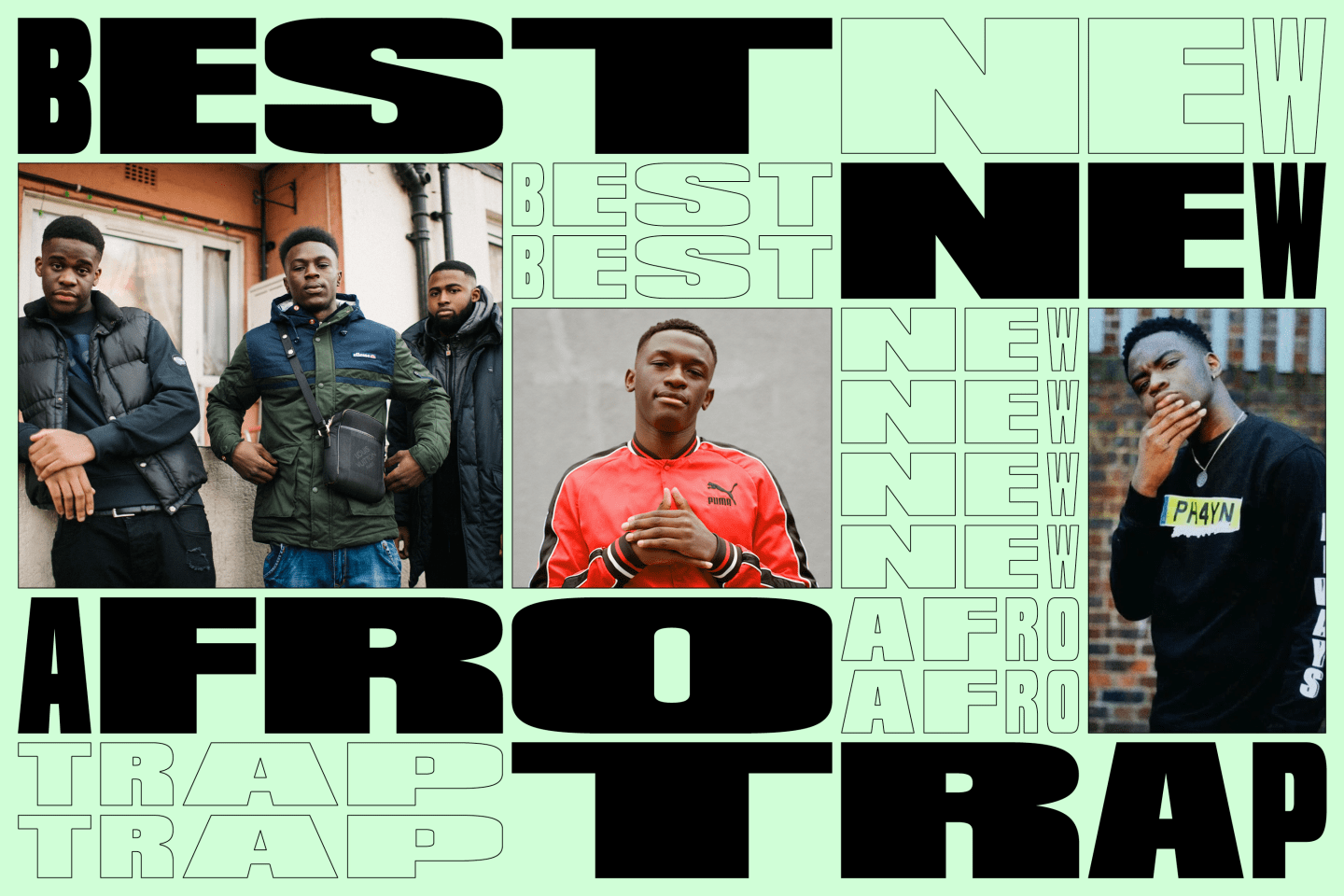 Afro-Trap, the diasporic genre nobody really has a proper name for (some call it Afro Bashment), is the dominant sound of young London right now. Its refreshing mix of dancehall, rap, grime, and afrobeats sounds can be heard across playlists, charts, radio, festival stages, and more. "I feel like we're pioneering a new sound," Ty Jombla of key group Belly Squad told The FADER in March. "You can hear our influences and what we were raised listening to."
The scene is hugely collaborative and, honestly, sometimes I struggle to keep up as the MCs constantly jump on one another's tracks. It's a good headache to have though and one that is breeding a whole host of brilliant music. Artists from across London are taking the music they have grown up on and that you regularly hear in the city's diasporic communities and twisting them into something new.
The sound has been bubbling for a while, but now J Hus's breakout success means there is a template for new artists to follow and a proven hitmaker for music industry gatekeepers to acknowledge. This change has seen teen party-starter Not3s, king of the hook Kojo Funds, and the versatile Mostack (to name just three) all enjoying U.K. chart success in 2017.
Here's a round-up of the tracks you need to know.

1. Yxng Bane, "Rihanna"
East London MC Yxng Bane is having a big year in 2017. First he released the only version of "Shape Of You" I recognize, then followed that by signing a deal with Tinie Tempah's Disturbing London label. The first release since inking a deal with a major is "Rihanna," a melodic earworm guaranteed to stick with you long after it ends. The dancehall-inflected track is a late-night burner and proof that there is no better compliment than being as bad as RiRi herself.
2. Don E f. Nado, "You Alright, Yeah?"
Londoners Don E and Nado got a major co-sign for their flirty breakout single "You Alright, Yeah?" when Beyoncé used it in an Instagram post back in March. The track teams up MC Don E, who wears a V For Vendetta mask when he raps, with vocalist Nado. Both artists will have you asking "How's your mum?" in no time.
3. Tion Wayne x Geko x One Acen, "Gone Bad"
This posse cut catches three of the scene's most exciting newcomers together in North London's Tion Wayne, Geko from Manchester, and the smooth vocals of hook-slayer One Acen. "Gone Bad," like the best Afro-Trap, is fun and flirty with the object of the MCs' desires held up on a pedestal.
4. Hardy Caprio, "Super Soaker"
South London's Hardy Caprio is best known for his 2017 hit "Unsigned" but its entertaining follow up, "Super Soaker," is even catchier than its predecessor. Pick up your water pistol and join the Croydon rapper as he asks "Who else brought the yak? Who else brought the sauce? Who else brought the juice?"

5. Not3s, "Aladdin"
Fresh from giving taxi firm Addison Lee a bump in soon to be post-Uber London, Hackney MC Not3s has got another banger on his hands. "Aladdin" makes no reference to the Disney classic, instead acting as a message to keep your circle tight and control your own destiny with a buoyant beat and chopped up vocal samples. Play it when you're rolling with your closest friends.

6. Belly Squad, "Lifestyle"
Belly Squad has been cranking out the hits since the days they were creating irrepressible hooks on Vine. The south London trio has a new project coming later this year and recently shared "Lifestyle." The wavy song comes complete with a sun-kissed video featuring the group casually floating on donut lilos looking a long way from the roads that made them.
7. Lotto Boyzz, "Birmingham"
Proof this scene is not just a London thing, Birmingham's Lotto Boyzz rep for their home city in this fiercely proud track. Teaming up with local MC JayKae, the duo put on for the 0161 as they talk about trips to the city's Bull Ring shopping center and hanging outside a chicken shop over a U.K. garage-style beat. It's the most convincing argument to leave home and move to the middle of England in years.

8. Mabel f. Kojo Funds, Don-E and Burna Boy, "Finders Keepers"
The original "Finders Keepers" is a highlight of Londoner Mabel's recent mixtape and a top 10 U.K. hit for the 21-year-old. It's the remix, featuring Don-E and Nigeria's finest Burna Boy, that I can't stop playing though. The addition of east London rapper Don-E rhyming: "Have a couple drinks, catch a likkle whinin'" moves the seductive R&B track firmly into Afro-Trap territory.

9. Niska, "Réseaux"
"Réseaux" was a huge hit for the flashy Niska in his native France this summer. One play of the song's addictive hook ("skrrt, pouololo") and it's easy to see why. Like his fellow countrymen PNL and MHD, Niska is taking the tropes and style of U.S. trap and creating something new through his own diasporic experience. Niska might rap in French but "Réseaux" is the kind of track that could be a hit anywhere in the world.
10. MoStack f. Mist, "Screw & Brew"
Mostack seems the most likely British artist to follow J Hus into the mainstream. His June-released High Street Kid mixtape is an energetic and undeniable statement of his talent, with "Screw & Brew" its high point. Over a twisted and gleaming production from Steel Banglez the pair spit street-hardened rhymes about having "more shooters than FIFA."

Listen to The Best New Afro-Trap on Apple Music: