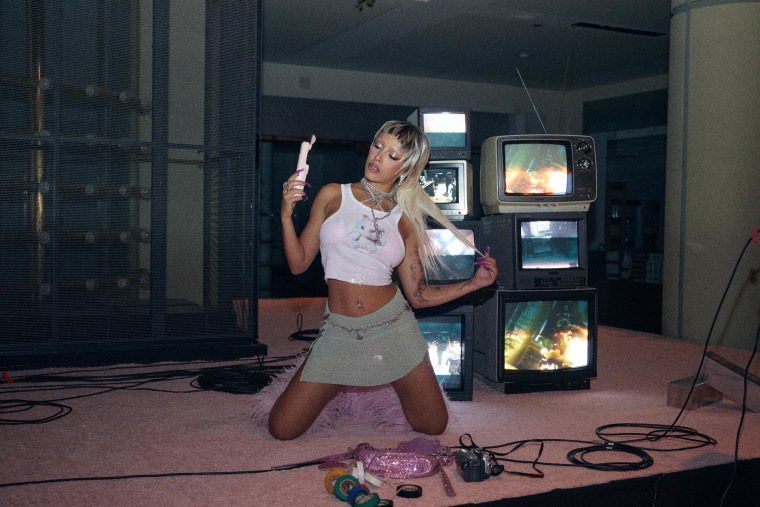 Doja Cat's new album Scarlet is finally here. The fourth album from the pop star born Amala Zandile Dlamini arrives after a bumpy, fascinating, yet undeniable successful months-long promo campaign: Doja successfully alienated hundreds of thousands of fans for refusing to say that she loved them, yet scored a No. 1 hit with the Dionne Warwick-sampling "Paint The Town Red." Her song "Demons" attracted the ire of antsy Christians looking for another Satanic panic, but their ire wasn't enough to stop her from a performance of the song as part of an energetic medley at the 2023 MTV VMAs.
The entire ride was par for the course of Doja Cat, whose appeal lies partially in how much fun she has when she knows all eyes are on her. Last year, she gleefully trolled the media and watchful fans in the lead-up to her new album, insisting at one point that the project would be "'90s German rave." Who knows, perhaps the mix-up with her Scarlet cover art, where the originally announced image actually belonged to a German death metal band, was a part of her jokey process?
Regardless, Scarlet is here now for your streaming pleasure. The project doesn't contain any features, and Doja is listed as its executive producer.
1. Paint The Town Red
Produced by Earl on the Beat, Karl Rubin, Jean Baptiste, and DJ Replay
Composed by Amala Zandile Dlamini, Burt Bacharach, Hal David, Isaac Earl Bynum, Jean Baptiste Kouame, Karl Rubin Brutus, and Ryan Buendia
Contains a sample from "Walk On By" as performed by Dionne Warwick, written by Burt Bacharach and Hal David, published by New Hidden Valley Music Co./PW Arrangements/Universal Music Corp. (ASCAP) and BMG Rights Management (UK) Ltd./(Hal David) (PRS)/BMG Gold Songs/BMG Rights Management (US) LLC (ASCAP), used courtesy of Rhino Entertainment Company, a Warner Music Group Company.
Mixed by Neal Pogue for 411 E. 9th Street and Jesse Ray Ernster at MIXLAND, Los Angeles, CA
Mastered by Mike Bozzi
2. Demons
Produced by d.a. got that dope For Guaranteed Millions
Composed by Amala Zandile Dlamini, David L. Doman, Danny Levin, and Christina Doman
Recorded by Rian Lewis at Harbor Studios, Malibu, CA
Mixed by Neal Pogue for 411 E. 9th Street
Mastered by Mike Bozzi
3. Wet Vagina
Produced by Kurtis McKenzie, Cadenza, Flip_00 and Whereyouathan
Composed by Amala Zandile Dlamini, Kurtis McKenzie, Oliver Rodigan (Cadenza), Jiseok Lee (Flip_00), and Sung Woo Lee (Whereyouathan)
Recorded by Rian Lewis at Harbor Studios, Malibu, CA
Mixed by Neal Pogue for 411 E. 9th Street
Mastered by Mike Bozzi
4. Fuck The Girls (FTG)
Produced by Kurtis McKenzie, Scribz Riley, and Beat Butcha
Composed by Amala Zandile Dlamini, Kurtis McKenzie, Mike "Scribz" Riley (Michael Orabiyi), Eliot Dubock (Beat Butcha), and Amil Raja
Recorded by Rian Lewis at Harbor Studios, Malibu, CA
Mixed by Neal Pogue for 411 E. 9th Street
Mastered by Mike Bozzi
5. Ouchies
Produced by London On Da Track, Devon Rhys Roberts, and Sean Momberger
Composed by Amala Zandile Dlamini, London Holmes, Devon Rhys Roberts, Sean Momberger, Tommy Brown, Philip Cornish (Phil The Keys), and Luther Campbell
Recorded by Rian Lewis at Harbor Studios, Malibu, CA
Contains a sample from "Come On" as performed by Luke, written by Luther Campbell, published by Music of Ever Hip Hop/Music Of Evergreen/BMG Rights Management (US) LLC (BMI), used courtesy of Lil' Joe Records, Inc.
Mixed by Neal Pogue for 411 E. 9th Street
6. 97
Produced by Jay Versace and Sam Barsh
Composed by Amala Zandile Dlamini, Jahlil Gunter (Jay Versace), and Sam Barsh
Keyboards by Sam Barsh
Recorded by Rian Lewis at Harbor Studios, Malibu, CA
Additional engineering by Sam Barsh
Mixed by Neal Pogue for 411 E. 9th Street
Mastered by Mike Bozzi
7. Gun
Produced by Kurtis McKenzie and f a l l e n
Composed by Amala Zandile Dlamini, Kurtis McKenzie, Lee Stashenko (f a l l e n), and Aubrey Robinson (Boobie Robinson)
Recorded by Rian Lewis at Harbor Studios, Malibu, CA
Mixed by Neal Pogue for 411 E. 9th Street
Mastered by Mike Bozzi
8. Go Off
Produced by Kurtis McKenzie and f a l l e n
Composed by (Amala Zandile Dlamini, Kurtis McKenzie, and Lee Stashenko (f a l l e n)
Additional production by Rian Lewis
Recorded by Rian Lewis at Harbor Studios, Malibu, CA
Mixed by Neal Pogue for 411 E. 9th Street
Mastered by Mike Bozzi
9. Shutcho
Produced by Earl on the Beat, GENT!, and Bangs
Comosed by Amala Zandile Dlamini, Isaac Earl Bynum (Earl on the Beat), Gentuar Memishi (GENT!), Bennett Pepple (Bangs), Graham Gouldman, and Eric Stewart
Recorded by Rian Lewis at Harbor Studios, Malibu, CA
Contains a sample of "I'm Not In Love" as performed by 10cc, written by Graham Gouldman and Eric Stewart, published by Wise
Music obo itself and Man-Ken Music, Ltd. (BMI), licensed courtesy of Universal Music Operations Limited.
Mixed by Neal Pogue for 411 E. 9th Street
Mastered by Mike Bozzi
10. Agora Hills
Produced by Earl on the Beat, GENT!, Jean Baptiste, and Bangs
Composed by Amala Zandile Dlamini, Isaac Earl Bynum (Earl on the Beat), Gentuar Memishi (GENT!), Jean-Baptiste Kouame, Bennett Pepple (Bangs), Brian Holland, and Michael Smith
Recorded by Rian Lewis at Harbor Studios, Malibu, CA
Contains a sample from "All I Do Is Think Of You" as performed by Troop, written by Brian Holland and Michael Smith, published by Gold Forever Music, Inc./Sony/ATV Songs LLC (BMI) and Stone Diamond Music Corporation (BMI), used courtesy of Atlantic Recording Corp., by arrangement with Rhino Entertainment Company, a Warner Music Group Company.
Mixed by Neal Pogue for 411 E. 9th Street
Mastered by Mike Bozzi
11. Can't Wait
Produced by Earl on the Beat, Jean Baptiste, Jasper Harris, Presley Reiger, and Aaron Shadrow
Composed by Amala Zandile Dlamini, Isaac Earl Bynum (Earl on the Beat), Jean-Baptiste Kouame, Jasper Harris, Presley Regier, Aaron Shadrow, and Roy C. Hammond
Recorded by Rian Lewis at Harbor Studios, Malibu, CA
Contains a sample from "Impeach The President" as performed by The Honey Drippers, written by Roy C. Hammond, published by Swing Beat Songs/TufAmerica, Inc./Songs of Kobalt Music Publishing (BMI), used courtesy of Tuff City Records.
Mixed by Neal Pogue for 411 E. 9th Street
Mastered by Mike Bozzi
12. Often
Produced by Jay Versace and Ben Nartey
Composed by Amala Zandile Dlamini, Jahlil Gunter (Jay Versace), Ben Nartey (Benjamin Oyortey, Jr.),
and Derex Williams (Rex Jordan)
Recorded by Rian Lewis at Harbor Studios, Malibu, CA
Mixed by Neal Pogue for 411 E. 9th Street
Mastered by Mike Bozzi
13. Love Life
Produced by Jay Versace
Composed by Amala Zandile Dlamini, Jahlil Gunter (Jay Versace), and Ben Nartey (Benjamin Oyortey, Jr.)
Additional Production by Ben Nartey
Recorded by Rian Lewis at Harbor Studios, Malibu, CA
Mixed by Neal Pogue for 411 E. 9th Street
Mastered by Mike Bozzi
14. Skull and Bones
Produced by Ayo The Producer and Kaeyos
Composed by Amala Zandile Dlamini, Austin Owens (Ayo), Leonard Latouche (Kaeyos), Marcus Rucker, Derek Kastal, Justin Robbins, and Adrian Sealy
Recorded by Rian Lewis at Harbor Studios, Malibu, CA
Mixed by Neal Pogue for 411 E. 9th Street
Mastered by Mike Bozzi
15. Attention
Produced by Y2K and Rogét Chahayed
Written by Amala Zandile Dlamini, Ari Starace (Y2K), and Rogét Chahayed
Additional Production by Mayer Hawthorne
Recorded by Rian Lewis at Harbor Studios, Malibu, CA
16. Balut
Produced by Yeti Beats, Rogét Chahayed, and Kurtis McKenzie
Composed by Amala Zandile Dlamini, David Sprecher (Yeti Beats), Rogét Chahayed, and Kurtis McKenzie
Recorded by Rian Lewis at Harbor Studios, Malibu, CA
Contains a sample from Ric Flair, used courtesy of Ric Flair
Mixed by Neal Pogue for 411 E. 9th Street
Mastered by Mike Bozzi
17. WYM Freestyle
Produced by Kurtis McKenzie, Brad!, and Serg Dior
Composed by Amala Zandile Dlamini, Kurtis McKenzie, Bradley Powell (Brad!), Sergio Romero (Serg Dior)
Recorded by Rian Lewis at Harbor Studios, Malibu, CA
Mixed by Neal Pogue for 411 E. 9th Street
Mastered Mike Bozzi at Bernie Grundman Mastering, Hollywood, CA
Mixed by Neal Pogue for 411 E. 9th Street
Mastered by Mike Bozzi