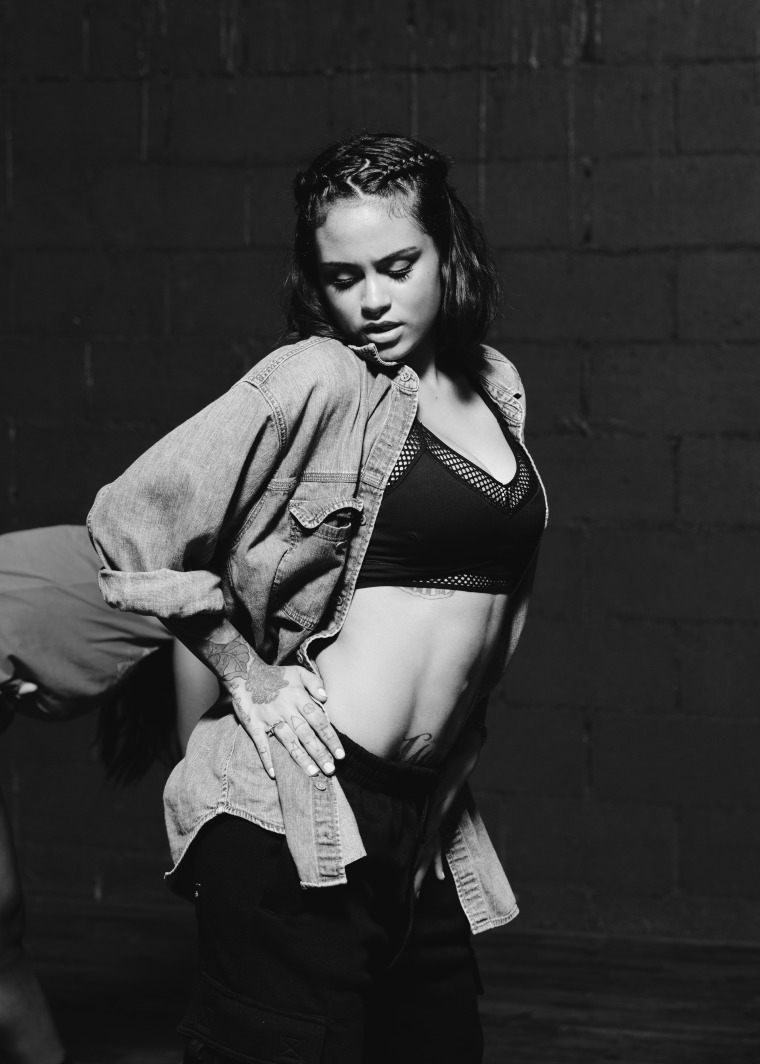 Kehlani, the LA-based singer who'll release her debut album next year, is on the cover of The FADER's new Fall Fashion issue. In the cover story, she details her upbringing, discusses her time on reality TV, explains her signing with a major label, and opens up about her relationship goals. After a couple days at home with Kehlani in California, here's what we learned about where she's been and where she's headed.
1. She competed on America's Got Talent
In 2011, Kehlani appeared on the competitive variety show as the vocalist of PopLyfe, a covers band she joined at the age of 14. The band placed in fourth on the show's 6th season, missing out on the prize money.
2. She didn't win, but afterward host Nick Cannon jumpstarted her career
Something about Kehlani stuck with AGT presenter Nick Cannon, who reached out to her after taping wrapped. When she was 18, he brought her out to L.A. to be part of a rap group he was forming. She didn't feel comfortable with performing raps she didn't write and eventually returned to the Bay Area, where she grew up. But Cannon didn't give up. He called her back again, and sent her to work with producers in New York on songs for her Cloud 19 mixtape in 2014. When Kehlani eventually signed to Atlantic, the label gave Cannon a tidy check.
3. Jahaan Sweet is her "musical soulmate"
That's how Kehlani herself describes the 22-year-old Florida native, who's a producer as well as a classically trained pianist and recent Juilliard graduate. Sweet first met Kehlani when he was interning for Swagg R'celious, a New York-based producer. He still remembers hearing her sing for the first time: "I walked in and I said, 'Who is that singing? That's the best voice I've ever heard in here.' She had good technique, but her voice wasn't over the top; it was subtle and honest."
4. She writes all her own songs
Sweet wasn't just enamored with Kehlani's vocal; when he found out she also wrote all her own songs, he was truly sold. Or, in his own words: "I was like, man, she's killing!"
5. She studies Max Martin, but wouldn't want to be him
Kehlani is fascinated by the mechanics of huge pop songs, but isn't chasing after a Top 10 hit of her own. "Factually, hits intrigue me," she explained to The FADER. "As a songwriter, I break down a song's melody, hook, timing, patterns, wordplay. I study Max Martin and shit. But now, I just focus on making what I make. Some people's whole objective is to make money, and you can hear it in the song. That's never my objective."
7. She tried out a major label before signing with one
Kehlani said that after releasing her Cloud 19 mixtape, she sat down with "every label there is, more than once." In early 2015 she started working at Atlantic's studios in L.A., before formally signing with them before the April release of her mixtape, You Should Be Here. Kehlani's deal makes her a good example of what some industry people call a "mindie" act—an artist with indie credentials and major potential.
8. She had a complicated childhood
Both of Kehlani's parents were addicts. Her father died when she was a toddler; her mother gave birth to her while on the run from police, and was sent back to jail afterward. Kehlani had a stint in foster care before being adopted by her aunt, who raised her in Oakland.
10. She is black, white and Native American
She remembers that her mom told her as a child that she also has a little Filipino heritage, but said no other family members have verified this.
11. She's always had those abs
Kehlani has a fast metabolism and naturally muscular build; as a kid, she said, an umbilical hernia made a "lump" in her stomach. Growing up, this made her feel not feminine, and uncomfortable. "My body wasn't proportionate like a girl's, so I never showed it," she said. At 17, she said, some lingering negative feelings about her body prompted her to get tattoos. "I got tattoos real fast," she explained. "At first it was like, 'This is changing me into what I really want to be!' I'd always wanted tattoos, but I think I actually got so many because I hated myself." Now, healthy and surrounded by a crew of excellent girl friends, she said she feels like "more of a woman."
12. She has dated girls and boys
"I got my first girlfriend in ninth grade," Kehlani said. "Then I told her I didn't know what I wanted and broke up with her. I think I was always just, like, you have to be gay or you have to be straight—that those were conflicting. I learned that there's really no wrong or right, that it was cool to like everything. But it was a lot for me."
14. But, at some point, she wants to find The One
"I think I function better in a relationship, because it give me things to write about," Kehlani told The FADER. "I want to be with someone who makes me work harder and keeps me on my toes, where I'm enjoying watching them grow and they're enjoying watching me grow. I don't want to be fucking with a bunch of people. I don't want to carry that much around with me—in my energy, in my career, in my music."