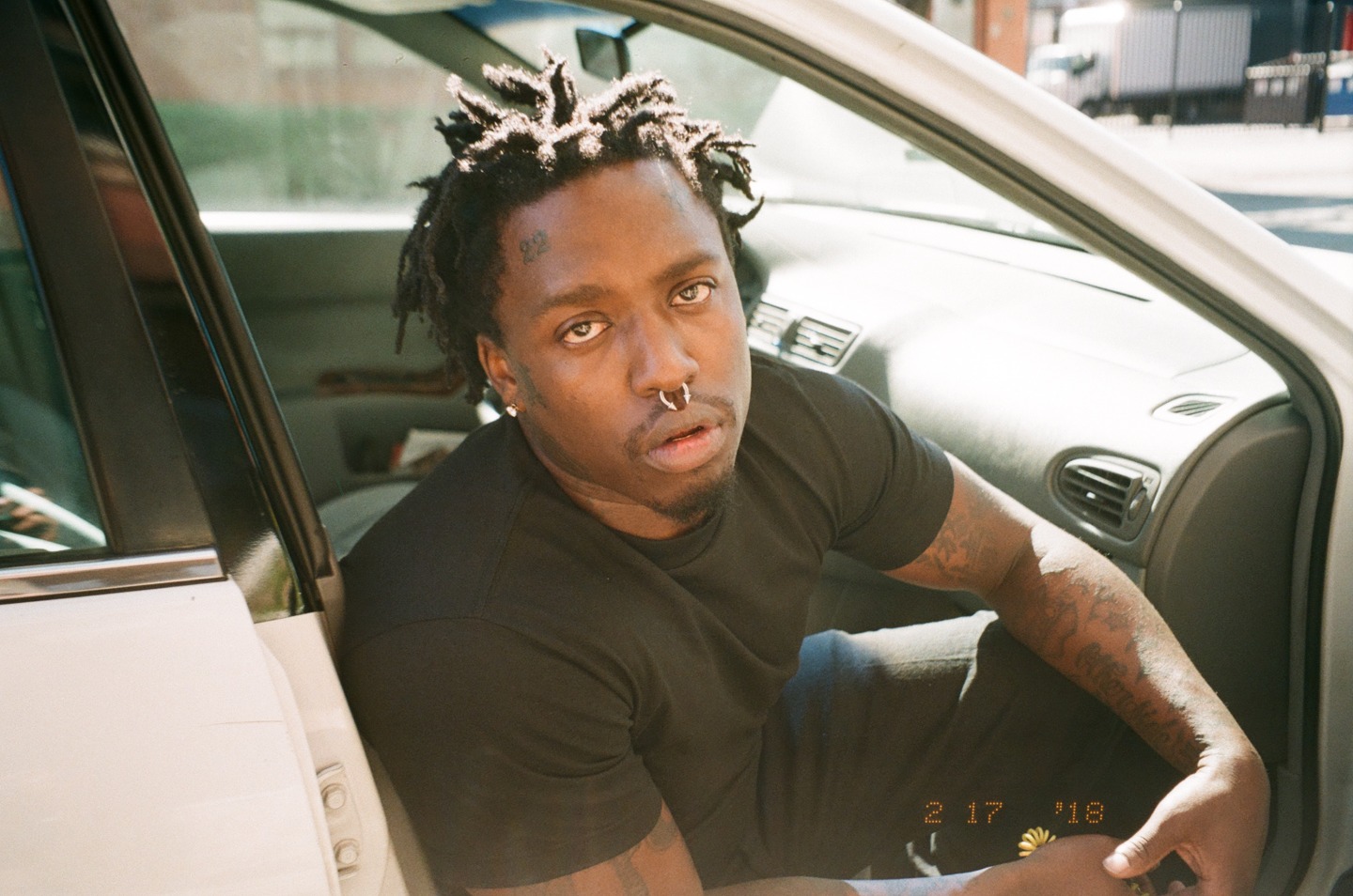 In a bare-bones rehearsal studio, on a crisp day in March, rising Oakland rapper ALLBLACK prepared for his biggest performance to date. He circled the hollow space with his backpack on, finalizing cues and transitions with confidence, as songs from his 2016's mixtape NO SHAME 2 and his 2017 EP KimSon echoed. The following night, he would take the stage in front of a sold-out crowd at Oakland's Fox Theater, opening for Vallejo phenoms, SOB X RBE.
Over the past year, ALLBLACK has been ticking off accomplishments: dinner with elder statesman E-40; features from West Coast hitters Nef the Pharaoh and 03 Greedo on his newest EP, Outcalls; and selling out a local co-headlining show in February with OMB Peezy. The day after that commanding performance, he tweeted, "Shit crazy how people really memorize my diary."
In that music-as-diary, ALLBLACK raps about the ins and outs of "pimping," i.e. sex pandering [procuring another person for the purpose of prostitution], often naming the names and streets that his hustle revolves around. "At 15 was on the blade, should've been up in class / I'm a scum son of a bitch, trade pussy for cash," he raps on "Canadian Goose." The song, KimSon's biggest single, features 808 cowbells and a booming beat that conjure the muscle memory of hyphy. Though the project pushed his music career forward, he isn't eager to praise it. "KimSon was not cool to me," he told me, speaking softly enough for me to catch the clink of his gold grills. "That was probably the deepest part of my diary to me. It wasn't okay. You listen to the songs, and you didn't know me, you'd be like, 'Ooh, he about to go kill his self. Who let him in the studio?'" He has a point. Though the EP features an array of sonic touchpoints, stretching from boastful West Coast thumps to an unhurried Southern pace, his confessional lyrics are markedly paranoid and remorseful.
On Outcalls, ALLBLACK takes on a narrative tone, recounting tales of wild sprees and a lavish lifestyle, but pimping remains his central thesis. Rap's relationship with pimps and pimp culture is storied, especially in Oakland. Rappers like Too Short, Richie Rich, Dru Down, and others have adopted the culture's style and, on occasion, the illicit trade itself. Pimping, and the allure of the culture built around it, relies on a patriarchal hierarchy unconcerned with the autonomy of sex workers, most of whom are women. In 2018, it's as necessary as ever to scrutinize these dynamics and the art that depicts them. In his music, ALLBLACK stands as the protagonist of his story, often using football terminology to rap about the plays he makes as a pimp. If the frame was shifted to center another member of his trade, a different story and a different game might appear.
After wrapping rehearsal, ALLBLACK and I continued our conversation at the house he grew up in, just up the street from East Oakland's beloved Sinaloa taco truck. With his infant daughter Maxeene happily resting in his arms, he talked about the ethics of pimping and explained how Kossisko, aka 100s, was one of the first folks to push him to make music.

In an interview about KimSon, you said your mom is different and you're different. What do you mean by that?

To me, different is a sugar-coated word for weird to the world. I was always called weird. "He's weird," "Why he act like that?" "Why he move like that?" "Why is his favorite color yellow? Men don't like yellow." Things like that. I had big brothers and cousins but I was always my own man. I always stood out, but I never understood it. So when my family see me do things, they'd think I was just being funny. Or me being D. Dusty being Dusty.

They called you Dusty?

That's what I'm known as, Dusty. It's a childhood nickname that never wore off. And it was what it was. It started off as my Aunty Pam, rest in peace, all of her nephews she called them Dusty. Dusty Number 1, Number 2. I used to be like, "I'm not Dusty. I just got out the shower. I'm clean." I used to get mad. I didn't want to go over to her house. After that it just stuck. I was the only Dusty.
How did you meet Kossisko?

I met him through my cousin slash manager Delency, [aka] Rolla. My cousin went to UC Santa Barbara. We used to always go out there and see him. We was partying, things like that. I remember I was working, on State Street in Santa Barbara. I was running plays. And it was [Kossisko] and his partner Omeez.

I'm thinking like, Ok they cool with D, he straight. D not gonna bring nobody bootsy around. Period. So I took them around and showed them little stuff and it was amazing. And after that, it's been history. We ended up coming back to the Bay Area. Two days later we in L.A. That's when it was 100s at the Roxy [Theatre] with the A$AP MOB and Yams in the corner knocked out, snoring. But I was his hype man. That night I became his hype man.

Just on some, "I'm here so why not"?

That's my patna. And I became his hype man. He was like, "You should rap! You should rap." I was like, "Man watch out with that shit."

Why would he say that? Had he heard you rap?

No. [It was] because what he saw me as I was working, the things he saw me doing in the streets. He was like, "If you talk about your life, you'll make hella money. You'll get hella far with this shit." I was like, "Whatever, bruh, fuck all that. Watch out. Be cool." And I thought he was being funny because that's the second to third person ever to tell me that was cool. My patnas used to always laugh at what I did. How I made money. They used to talk down on me about what I did. They didn't really respect it like that. They were still cool with me though but it was some weird shit because I didn't want to kick a door or sell some flowers or something like that. I didn't come back to L.A. a third time because he kept saying that.

Why did it make you that uncomfortable?

Because I thought he was just talking and, at that time in my life, I was going through so much. I was fighting cases. I was just trying to find myself and that "weird" word, that "different" word was starting to get to me. I felt like that's why all this stuff is happening to me. All this bad luck is coming because I'm weird. People consistently asking me, "What are your goals? What do you want to be? What's your career?" I just want to be a better person. This was 2011. This is right before I moved to Atlanta.

Why did you go to Atlanta?

I was too turnt up. There was too much going on. My cousin Dom had just got out of jail and he was already turnt up. He had lost his dad. His mom, my aunty, she had moved out there and she kept saying, "I want y'all to come out here. I feel something's not right." That being my outlet, I was like, Alright, I'll try whatever.

How did you end up in front of a mic and writing songs?

It was really 2013 or '14 that I made my first song ever. But my first project was No Shame and that was '15. My patnas always did music. I was a big fan of music. I came back from Atlanta, and I'm like, "Yeah I want to see what y'all doing in the studio because I asked you niggas to send me hella music and y'all ain't send me nothing. I could've got y'all poppin' in Atlanta."

That's when the Migos were doing hole-in-the-wall clubs. That's when Future was in the club beefing it up. When I lived in Atlanta, I didn't like the music. When I came home, I told them, "Y'all gassin' way harder than these niggas." They wasn't seeing all that. I went to the studio. Sat there for 10 hours, made two songs, told them, "If y'all drop these songs I'm not fucking with y'all period." Next day they leaked the music.



It seems like music is a confessional outlet for you. How did you get comfortable enough to share that?

I'm still not. I'm uncomfortable because people don't walk up to me and say, "Ay what's on your mind?" People have heard about me or they see my energy and they automatically assume, "He's straight." I could never just sit there and tell someone how bad I felt or what I just did because they didn't understand it. My friends didn't do what I did. So if I told them, "Man I just went on this outcall, bruh was hella aggressive. He was on some jaycat shit. And he only paid for half. He did a quick bait and switch. I spent my last and bruh catted." They would be like, "Whatever" or "What you need me to do?" They couldn't help that. They were ignorant to my hustle, to how I moved. So I could never explain. I felt like I needed someone that was strong minded or comfortable.

Did you find that person?

It was a microphone. It was the studio. Anybody will tell you that's my diary. I wouldn't care if I ever sold a record. I'm not hopping off wax 'till I'm done telling my story. That's how I clear my mind. I write my music between midnight and 6, 7 in the morning. I sit by myself and write my music.

You said you don't like KimSon. How's Outcalls different from that project? What space were you in when you made this?

I was in L.A. DTB beats had me. That was my first time writing to a beat of my own. Made for me. So it was like a breeze. I got to alter the beat. He made the beat in my face. The entire beat is made how you want it and as you go. It just turned me up. I was hella juiced. Then I was in L.A. meeting a lot of people. Meeting a lot of the artists that I slapped back home: 03 Greedo, Drakeo, Ralfy from the Stinc Team. Offset Jim. Rexx Life Raj of course. It was all good vibes. I felt like it was hits after hits after hits every single time. Everybody in the studio was maxed out. When I made KimSon, nobody was in the studio with me. I had my own studio.

You're open about being a pimp. Was that a conscious decision to include that in your music?

My reason why I speak about it a lot is because of course it's a part of me. But at the same time, when I speak about this, how people shower it, I don't understand it. That's why I like to tell my view. I like to tell it in my own words what a pimp is. How a pimp moves. I'm painting my own picture. In music, the definition of a pimp, in life the definition of a pimp, is not my definition of a pimp.

So what's your definition?

I take what I can get out of it. That's my definition of a pimp. I don't follow any steps. I don't live off a script. I've never had anyone go, "Ay that's a pimp. Move like a pimp." I was doing this before this shit was popular.

If it's not being talked about as if it's a good thing, why did you decide that it could be a thing for you?

Because at that time when I started doing it, I didn't start doing [it] because of the money. I was fascinated by the women. I was fascinated by the art of the game. What I was told or what I was pitched, it wasn't that. Well, I can't say it wasn't the truth but it didn't fit me. It didn't work for me. Everybody has their own method. When they say the game is to be sold not to be told, they use that as an excuse because everybody runs their campaign differently. Just like you in your life and how you move. You do things different.

These people think you're a villain, or you're supposed to be a villain. You're supposed to be all gorilla stomp down. And once I started seeing the women, seeing how they moved and how bold they were, everything, it just turned me on. Of course the money, but looking at it, and learning it, and watching it for so long, seeing it, thinking that it's this when it really wasn't that. Yeah, it was a win, it was a score; yeah, it was prostitution. Yeah, it was sex. But if you go out there with that, and ask every girl, Why do you do what you do? I bet you they're all going to have a different answer.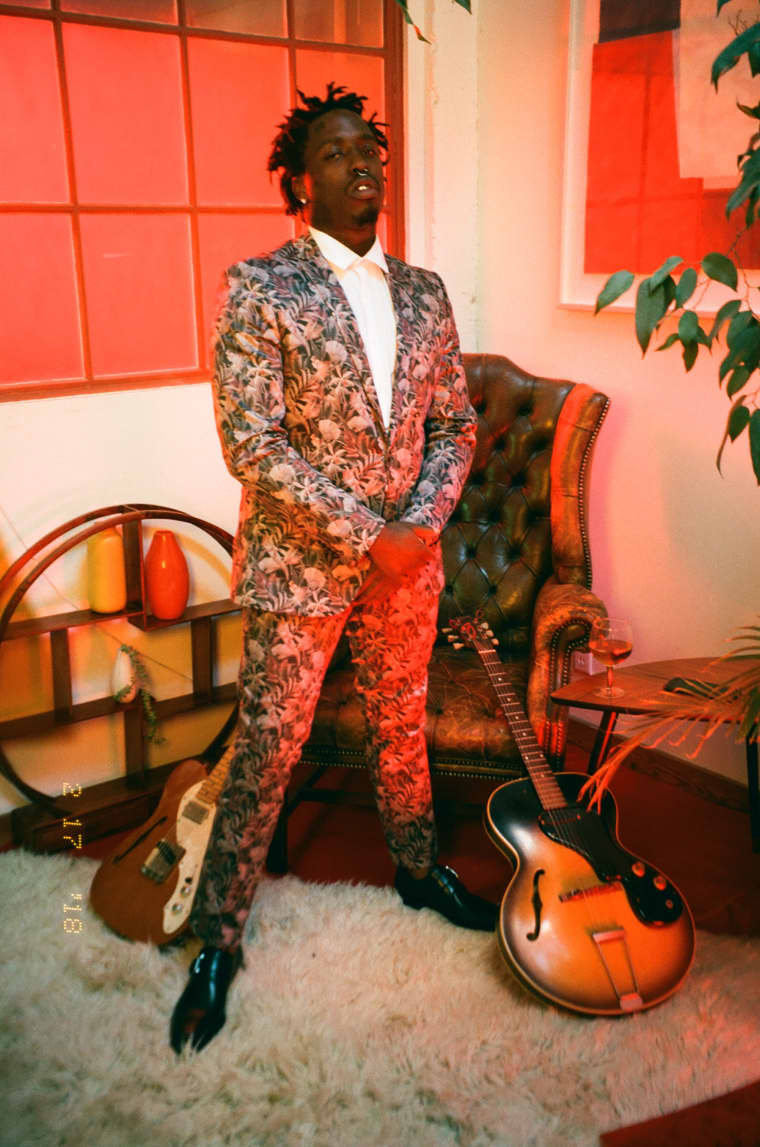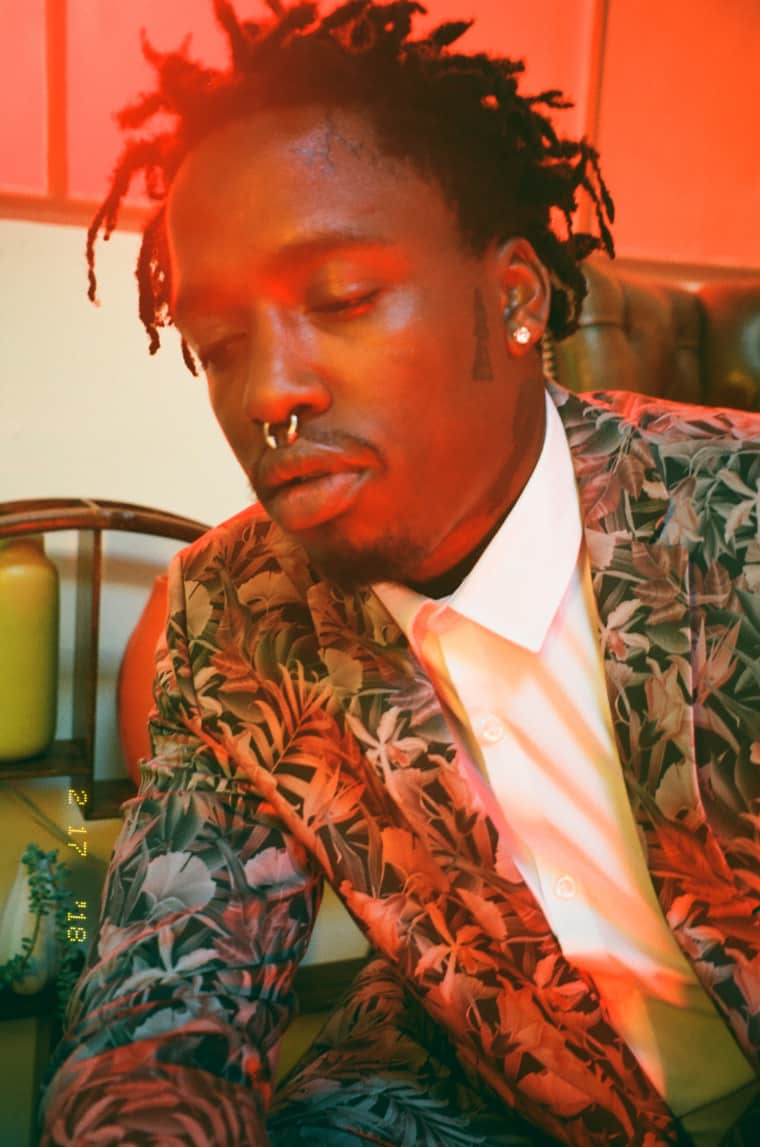 "I wouldn't care if I ever sold a record. I'm not hopping off wax 'till I'm done telling my story."


There are more complicated reasons behind sex work and who goes into it and with what options. It's a dynamic that's really ripe for exploitation on the part of the pimp.

The definition of ALLBLACK the pimp wouldn't be a conniver, it wouldn't be a sicko, it wouldn't be a gorilla. A pimp, all in all — I'm going to give you everything that's possible that a pimp could do. For me, I'm not a conniver. There's like six things in the definition of a pimp that I'm not. But, because I have one characteristic of that, I am a pimp.

What's your reason for being a pimp?

That's what I'm trying to figure out right now. Was I doing this for the money? At first when came in, I was fascinated. But if I said that and lost money or went to jail over it. And was struggling and was mad and was fucked up. Stressed out. Did I really love just the art of it? Because if you love the art of it, you just love the game, what comes with the game, the pain and the gain, you're willing to accept and love it. They say when you love what you do, you never have to work again.

Did you love it?

I still do love it. I don't know if it became a routine. "I was only doing this to feed people" — that's what I said two years ago. "It's the only way I know how to get dough." I closed my mind to that. Like I said, I was always used to getting away with it. But I love the game.

Are you more interested in music than being a pimp?

No. I wouldn't even be doing music, I feel, if I wasn't doing that. I'd be playing football. I love football.

Does it feel like a sport to you?

What? The rap game?

The pimp game. Do you feel like it's a fair game?

Nothing's fair.

Who is it the least fair to?

That's a great question. I don't know. I feel like it's even. Real deal.

Between the three parties involved?

The John, the trick, and the manager. Who do you feel?

I don't know. It's not an industry I'm very familiar with.

The reason I say even is because if you ask a [John], "Why do you pay for these women?" And he go, "I don't have no girl man. I just got to. I don't feel confident enough. Every time I hit, I miss." Then you got some that go "I got money what the fuck. I could fuck every flavor I want. This is the best shit ever created." Then you got one, "Well my buddies do it. And my buddies got me into it and that's all they do so it's what I do." You got the prostitute, the 304. "Why you do it?" [She says,] "I was forced. It's all I knew."

That just feels more severe when it's your body hosting the trauma.

Because it's physical?

Yes. In the decade you've been doing this, have you had any moral battles about it? Does it fit with you becoming a better person?

Better person? No, because the game doesn't do that to me. I don't get that out of the game. Of course it molded me to the man I am. But when I look at this girl and I go, Oh that's somebody's daughter, if I have to get to that point, that lets me know that my campaign is not being ran right. That lets me know you got the wrong situation. I'm not going to even keep that out there. My mind doesn't even play like that. That's an automatic red flag.
That's just my campaign, meaning that, in my house, when I say in terms of my campaign, my whole get up, how I move, if this 304 come fuck with me, she choose me, she's in my campaign. In my campaign, this is how we turn the lights on and off. These are the rules, follow it. This is how it's ran. In my campaign, you're allowed to speak your own mind. Be all you can be. You gotta be able to have fun with me. I don't want to feel like no weirdo. I know in my campaign, everyday life, my everyday life has to intertwine with this trap. I can't just sit there and be on no girl when I'm in a relationship. What extra powers comes with that name that makes me want to hit on a woman while I'm trapping or I'm pimping? That's just not in me. I don't transform. There is no extras to this. This is how it is all the way around. I have no shame. This how I'm rocking. This how I want to run my campaign. I know prostitutes who've never had hands put on them. So I know, "Oh it's possible." I don't get a kick out of hitting women. I grew up with women my whole life. Now I'm not gon' go in full detail on what's going on with what but I don't get a thrill out of that. And also, you are not the slander the next man's campaign. Because how he runs his campaign is how he runs his campaign. But that's my campaign. This is a job, not a career. I'm doing this to get to where I really want to be.

Where do you want to be?

At peace. I'm trying to be at peace. That's it. When people used to ask me that question I used to go, "Just where I want to be bruh you know! You know!" Like that. People don't be like "Huh?" But I found the right word for it and it was peace.

Do you think music is going to get you closer to peace?

Every day I feel like I'm getting closer to peace. You can find peace but how do you do keep it? I don't know. But when I do rap, I am at peace.