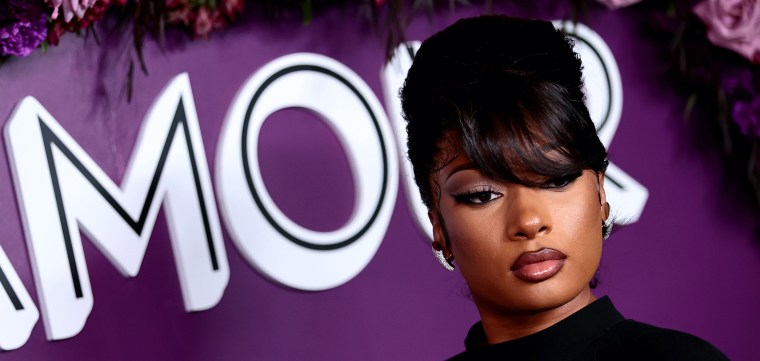 Megan Thee Stallion is opening up about Tory Lanez allegedly shooting her in July 2020.
On Monday's episode of CBS Mornings, Megan will sit down with co-host Gayle King for her first sit-down interview about the alleged incident, which supposedly occurred while the two were leaving a Hollywood Hills house party.
In a clip shared by the network on Sunday, the rapper can be seen growing emotional as she begins to talk about the argument that led to Lanez allegedly shooting at her feet.
"I get out of the car and it's like everything happens so fast, and all I hear is this man screaming," as Megan recalls. "He said, 'Dance, bitch.' and he started shooting. And I'm just like, 'Oh, my God.'"
According to her, Lanez was "standing up over the window" when he fired a "couple" shots at the ground. However, she also says she "didn't even want to move" in case she took the "wrong step."
"But I never put my hands on anybody. I never raised my voice too loud," she goes on to add. "Like, this was one of them times where it was, like, it shouldn't have got this crazy."
Following the alleged shooting, Lanez was arrested and charged with felony assault with a semiautomatic firearm and another felony count of carrying a loaded, unregistered firearm in a vehicle. He is also accused of inflicting "great bodily injury" to Megan, as she was forced to seek medical attention to remove shrapnel embedded into her left foot. If convicted, he faces up to 22 years in prison.
A month after his arrest, Megan took to Instagram Live to confirm Lanez shot before calling him out for getting his team to go to "these blogs, lying and shit."
Lanez has since pled not guilty and has continued to maintain his innocence, through a statement and lyrics featured on his 2020 album, DAYSTAR. Earlier this month though, he was handcuffed in court after violating an order banning him from publicly talking about the case or Megan.
Watch the clip from Megan's interview below.