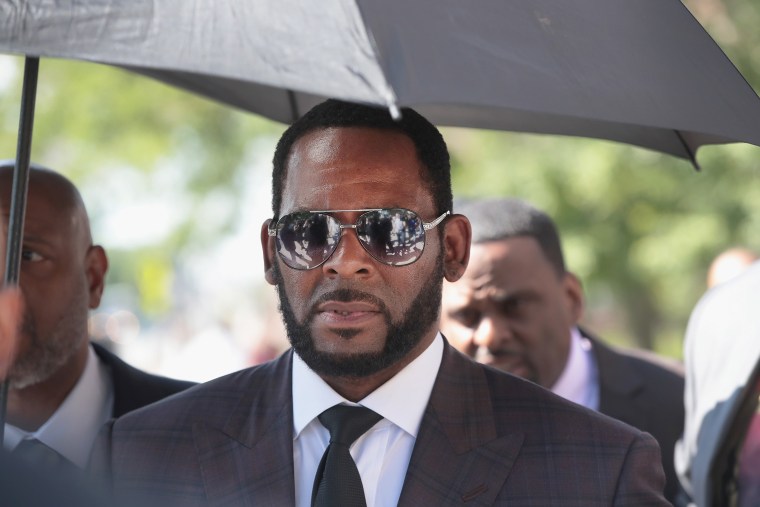 A federal prosecutor and the defense attorney for Robert Sylvester Kelly made their opening statements as his second federal trial began in Chicago on Wednesday. Kelly currently faces charges of child pornography and obstruction of justice alongside two additional defendants, Derrel McDavid and Milton Brown.
"The defendant… had sex with multiple children," Assistant United States Attorney Jason Julien told the jury today, according to a Chicago Tribune report. "He made videotapes of himself having sex with children. And these two co-defendants… knew about it."
Julien went on to detail Kelly's 2008 acquittal on similar charges in Illinois state court after the key witness for the prosecution (Kelly's alleged victim) refused to appear against him. The Associate Press reports that the woman in question, now in her 30s, will testify in the new case that he paid her off and threatened her not to give her testimony at the earlier trial. Julien also indicated his intention to play the jury parts of three videotapes that allegedly depict Kelly "having sexual contact with his then-14-year-old goddaughter," according to The New York Post.
Kelly's attorney Jennifer Bonjean referenced Kelly's past struggles in her opening remarks. "[Prosecutors] believe their evidence is going to show that he is a serial child sexual abuser," she told the jury, per The Tribune. "That's what they believe. And it is true that Mr. Kelly is imperfect. It is true that on his journey from poverty to stardom that he stumbled along the way. It is important when the government wants to paint him as a monster that you remember we are talking about a human being. We implore you to keep those emotions in check." The FADER has reached out to Ms. Bonjean's office for further comment.
In June, a federal judge in Brooklyn sentenced Kelly to 30 years in prison after his September 2021 conviction on nine counts of sex trafficking and racketeering. He also faces two felony counts of sexual misconduct in Minnesota for allegedly "engaging in, hiring, or agreeing to hire a minor to engage in prostitution."