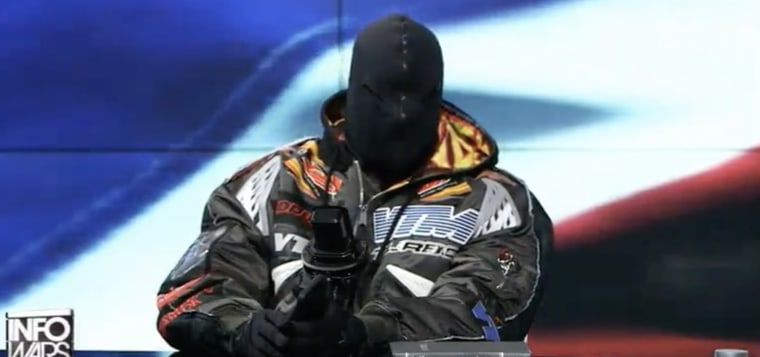 Kanye West appeared on far-right conspiracy theorist Alex Jones' InfoWars livestream on Thursday and praised Adolf Hitler during the course of his interview. His comments come in the wake of more anti-Semitic remarks that led to the loss of lucrative business deals with Balenciaga and Adidas. The fallout has also led to CAA dropping West as a client as well as the cancellation of a planned documentary.
At one point in the interview, Jones asserts that West is being "demonized" and unfairly compared to Adolf Hitler. In response, West pushes numerous antisemitic conspiracy theories and casts Hitler as an innovator.
"Well, I see good things about Hitler, also," West says. "I love everyone, and Jewish people are not going to tell me 'You can love us, and you can love what we're doing to you with the contracts, and you can love what we're pushing with the pornography,' but this guy that invented highways, invented the very microphone that I use as a musician, you can't say out loud that this person ever did anything good, and I'm done with that… every human being has something of value that they brought to the table, especially Hitler."
Warning: the clip below contains a scene of graphic violence from the film American History X.
Another clip captured from the program has Kanye West saying "I like Hitler" in response to Jones claiming that he "doesn't like Nazis." Last month, NBC News reported that Kanye West paid a settlement to a former Yeezy employee who claimed that West praised Hitler and the Nazis on multiple occasions.
West's tirade included mocking Israeli Prime Minister Benjamin Netanyahu's "funny name" and claiming that Dave Chappelle, who referenced West's controversy in his recent Saturday Night Live monologue, is "one of the black leaders that the Zionists put in front of us."

Kanye West on Alex Jones's InfoWars working on his high fashion impression of Carrot Top. Says he heard of Israeli PM Netanyahu for the first time last week. This next election cycle is about to be bonkers pic.twitter.com/rCsZVKbekK

— Def Noodles (@defnoodles) December 1, 2022
In his most off-the-rails interview to date, Kanye now takes aim at Dave Chappelle, noting that he is "one of the black leaders that the Zionists put in front of us." He then went on to support Herschel Walker. #kanyewest #alexjones pic.twitter.com/HmWQ5oJuqt

— Bryce Jacquot (@bryce_arjay3) December 1, 2022