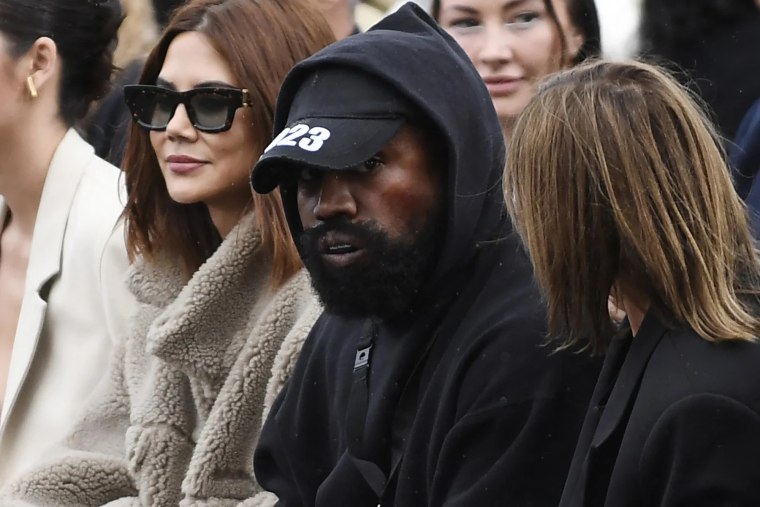 Balenciaga has cut ties with Kanye West following his recent spree of controversial comments and anti-semitic social media posts, as well as contentious breakups with Adidas and Gap. West collaborated with the luxury fashion house via his Gap partnership earlier this year, releasing the hugely successful "Yeezy Gap (GPS) Engineered By Balenciaga" line.
"Balenciaga has no longer any relationship nor any plans for future projects related to this artist," said a representative of Balenciaga's parent company, Kering, in an exclusive statement to Women's Wear Daily.
In September, West announced that he would not be extending his Yeezy partnerships with either Adidas or Gap. Shortly thereafter, his attorney sent a letter to Gap terminating their contract before it was due to expire. Just a few days later, he took to Instagram to post a list of far-ranging restrictions Adidas and Gap had allegedly placed on his "Yeezy standalone activities" following his recent actions, writing in his caption that his "war" with the companies was "not over." Earlier this month, Adidas placed their contract with West under review after "repeated efforts to privately resolve the solution."
The past few weeks have been especially turbulent ones for West. He's feuded with multiple designers, brands, and fashion personalities over the White Lives Matter shirt he wore and promoted at a Yeezy Season 9 show in Paris. Earlier this week, Rolling Stone reported that the shirts were being distributed to unhoused people in Los Angeles' Skid Row neighborhood, with help from stylist and accused serial rapist Ian Connor. (Connor tweeted a video of the shirts being handed out from boxes in the back of a sprinter van Sunday night.)
West was suspended from Twitter and Instagram on October 9 following a tweet in which he announced plans to go "death con 3 On JEWISH PEOPLE." A day later, he sat for an interview with Tucker Carlson, during which he aired several other conspiracy theories, and several more were revealed in unaired footage brought to light by Motherboard.
On Monday (October 17), the owners of the right-wing social media platform Parler announced their plans to sell the company to West. That announcement came the same day news broke of a potential $250 million lawsuit against West from the family of George Floyd. Over the weekend, he had spread misinformation about the circumstances of Floyd's death on a since-deleted episode of Drink Champs.