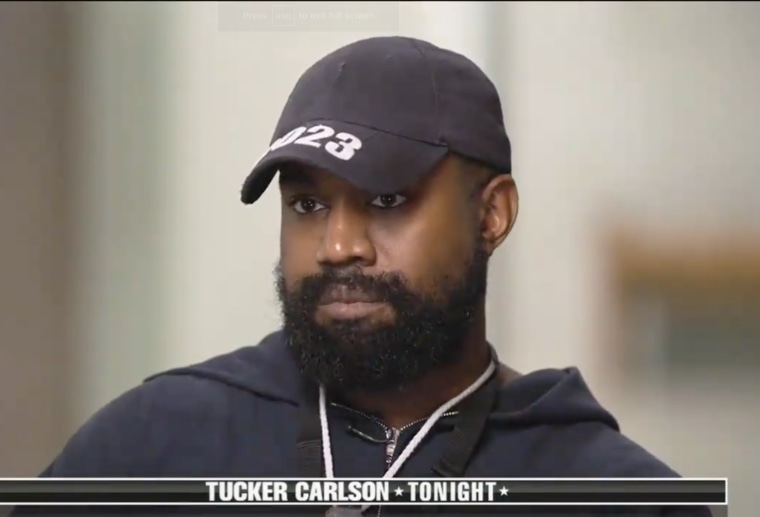 Motherboard has published unaired footage from Kanye West's October 6 interview with Tucker Carlson of Fox News. The footage contains a number of unsettling and conspiratorial tangents. In several of the videos, Jewish people and their traditions are at the center of West's statements. The interview aired last week in the wake of controversy over West's Yeezy Season 9 fashion show in Paris, in which he wore a "White Lives Matter" shirt. In the days after Fox aired the interview, West was suspended from Instagram and Twitter over antisemitic comments.
In one clip, West takes exception to his children learning about Kwanzaa in school, saying "I prefer my kids knew Hanukkah than Kwanzaa. At least it will come with some financial engineering." In another, he claims that Margaret Sanger created Planned Parenthood with the KKK "to control the Jew population." He elaborated: "When I say Jew, I mean the 12 lost tribes of Judah, the blood of Christ, who the people known as the race Black really are."
A third segment depicts West attempting to make an analogy using Black people judging one another as an example. "Think about us judging each other on how white we could talk would be like, you know, a Jewish person judging another Jewish person on how good they danced or something." Later, he asks Carlson to edit out the statement: "I mean, that's probably like a bad example and people are going to get mad at that shit."
Among other seemingly unrelated threads on divine visions and devious plots against his family, Ye also shared the theory that the multinational luxury goods company Louis Vuitton Moët Hennessy (LVMH) effectively murdered his long-time fashion muse, designer Virgil Abloh, who died of cancer late last year. "I'm beefing with them right now because they killed my best friend Virgil," he told Carlson. "The level of racism, elitism and pressure that he was under, I'm sure, affected his health," he added later.
In another excerpt viewed by Motherboard but not published, West reportedly said he believed that actors had infiltrated his home to influence his children. "I mean, like actors, professional actors, placed into my house to sexualize my kids," West said. He pointed to the "so-called son" of an associate as evidence. "We don't, we didn't even believe that this person was her son because he was way smarter than her, right?"
The footage emerges as Ye continues to entrench himself in battles against those around him. TMZ reported today that his ex-wife Kim Kardashian has paid for extra private security at the school their children attend following his persistent and public airing of the couple's parenting disagreements. Much of the fighting has been focused on the education of their oldest two kids, North and Saint, with Ye insisting they attend his recently opened school, Donda Academy — an unaccredited institution where parents reportedly must sign nondisclosure agreements in order for their children to attend.
Ye apologized to Kim on air in September during an interview with Good Morning America's Linsey Davis. More recently, however, he responded to a tweet from Baton Rouge rapper Boosie Badazz criticizing his WLM apparel, comparing his quest for revenge on the "Black celebrity community" to that of a school shooter. ""DON'T SPEAK ON ME LIL BOOSIE SPEAK TO ME YEAH LITTLE NERD ASS ME COME SMACK ME OR COME SHOOT ME," he wrote in a since-deleted reply. "IM THE ONE THAT GOT BULLIED BY THE ENTIRE BLACK CELEBRITY COMMUNITY NO IM BACK TO SHOOT THE SCHOOL UP."
All of this comes following a month that started off with a call for peace and ended in chaos. After announcing he was putting an end to all of his grudges in honor of the late Queen Elizabeth II in early September, he quickly proceeded to announce that he would not be extending his Yeezy partnerships with either Adidas or Gap. Shortly thereafter, his attorney sent a letter to Gap terminating their contract before it was due to expire. (He explained the decision in an interview with CNBC, explaining that "a king can't live in someone else's castle.") Just a few days later, Ye took to Instagram to post a list of far-ranging restrictions Adidas and Gap had allegedly placed on his "Yeezy standalone activities" following his recent actions, writing in his caption that his "war" with the companies was "not over."
Last week, Adidas placed their Yeezy contract "under review" after the first round of White Lives Matter drama, which included vicious online attacks aimed at several other clothing brands and designers, Vogue fashion editor Gabriella Karefa-Johnson, and supermodel Gigi Hadid.
The FADER has reached out to a representative of Kanye West for further comment.