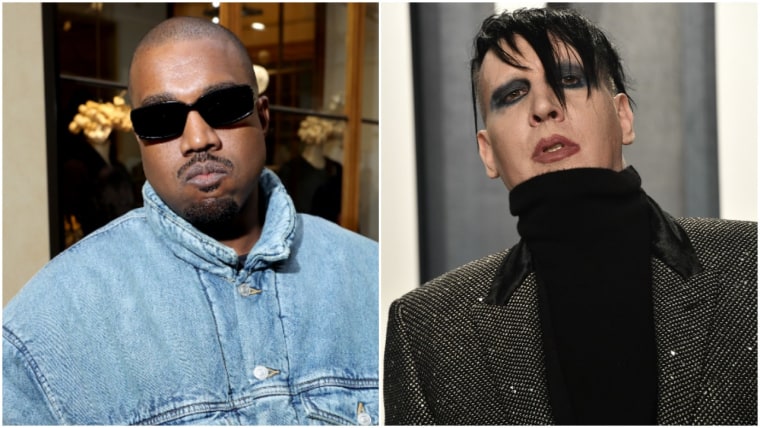 Marilyn Manson, the shock rocker who has been accused of abuse by several women, is reportedly spending "every day" in the studio working with Kanye West on his upcoming album Donda 2. Kanye West collaborator Digital Nas made the comments in an interview with Rolling Stone published on Monday. Manson has denied all of the allegations of abuse against him.
"I see Marilyn a lot in the studio," Digital Nas said. "Like, every day I go to the studio, Marilyn is there working on Donda 2." The producer claimed that Manson's contributions to the album will not be "rap beats," saying "[West] wants Marilyn to play what he makes, and then Ye will take parts of that and sample parts of that and use parts of that, like he did [generally when making] Yeezus."
Manson and West's collaboration was first revealed to the world when Manson appeared onstage with West at a live event for his album Donda in Chicago. Manson would go on to appear on "Jail pt 2" on the deluxe edition of Donda. "[West] has some producers from Yeezus working on Donda 2 this time around," Digital Nas said, "[as well as] Marilyn, me, a bunch of producers from Donda 1."
The reason West has brought Manson (real name Brian Warner) into his circle, Digital Nas speculated, could be tied into West's religion. "I'm just assuming it is from a standpoint of like, 'We're all sinners. We all make mistakes. We shouldn't point the finger at someone for the mistakes they've made or something like that.'"
Evan Rachel Wood, one of Manson's accusers said in a new documentary that the singer "essentially raped" her during the filming of a music video. Manson denied her allegations through a lawyer. The Los Angeles Sheriff's Department is currently investigating Manson and raided his home in November.
The FADER has reached out to Kanye West's representative for more information. Donda 2 is scheduled to be released on February 22, and will be executive produced by Future.