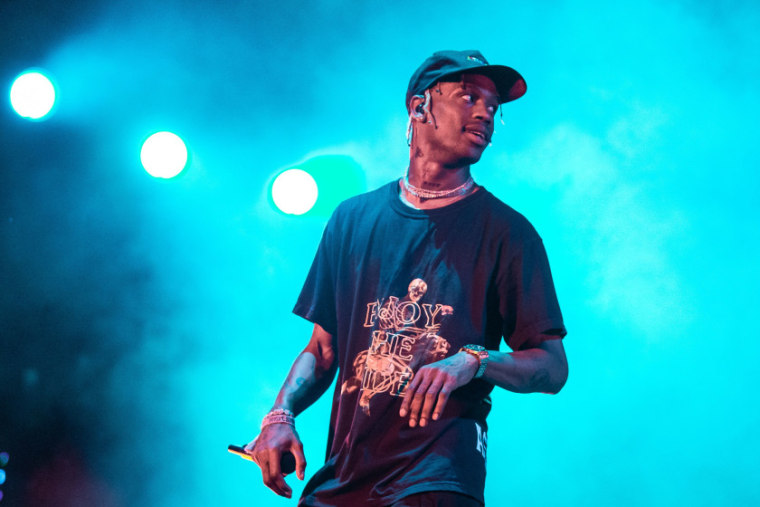 Travis Scott has given his verdict on Kanye West's relationship with ring-wing politics in a new Rolling Stone interview. Scott is the magazine's latest cover star with a reporter following him around his recent Astroworld festival in Houston, Texas. At one point the rapper was asked about West in the year in which he stated "slavery is a choice" and met Trump at the White House wearing a MAGA hat.
"I mean, shit, I'd tell him, 'Bro, chill," Scott is quoted as saying while "laughing with evident discomfort." Continuing, he said he told West: "What you gotta understand is, young black kids are looking up to you, and the message you used to preach in your earlier music? It'll make a young black kid — it'll make any kid — confused.' That shit was — come on. But when Ye get on some shit, he on some shit. I don't know if that nigga just liked the hat or what, dog. Ye deals with different shit in his life. That's family. You don't wanna desert your bro. Everybody go through shit. He still a dope musician. But he's definitely hit me up about it, and I've told him, 'Man, you got kids looking up to you, feel me?' "
Scott got an early break in the industry when he contributed to 2012 GOOD Music compilation, Cruel Summer. Earlier this year he welcomed a daughter, Stormi, with girlfriend Kylie Jenner. In the Rolling Stone piece he says he want to marry Jenner, meaning he and West would be brothers in-law through her half-sister, Kim Kardashian.
Earlier this year West renounced politics after claiming he was "used to spread messages I don't believe in." Pusha-T, meanwhile, confirmed that his GOOD Music label boss won't be wearing the hat in future.