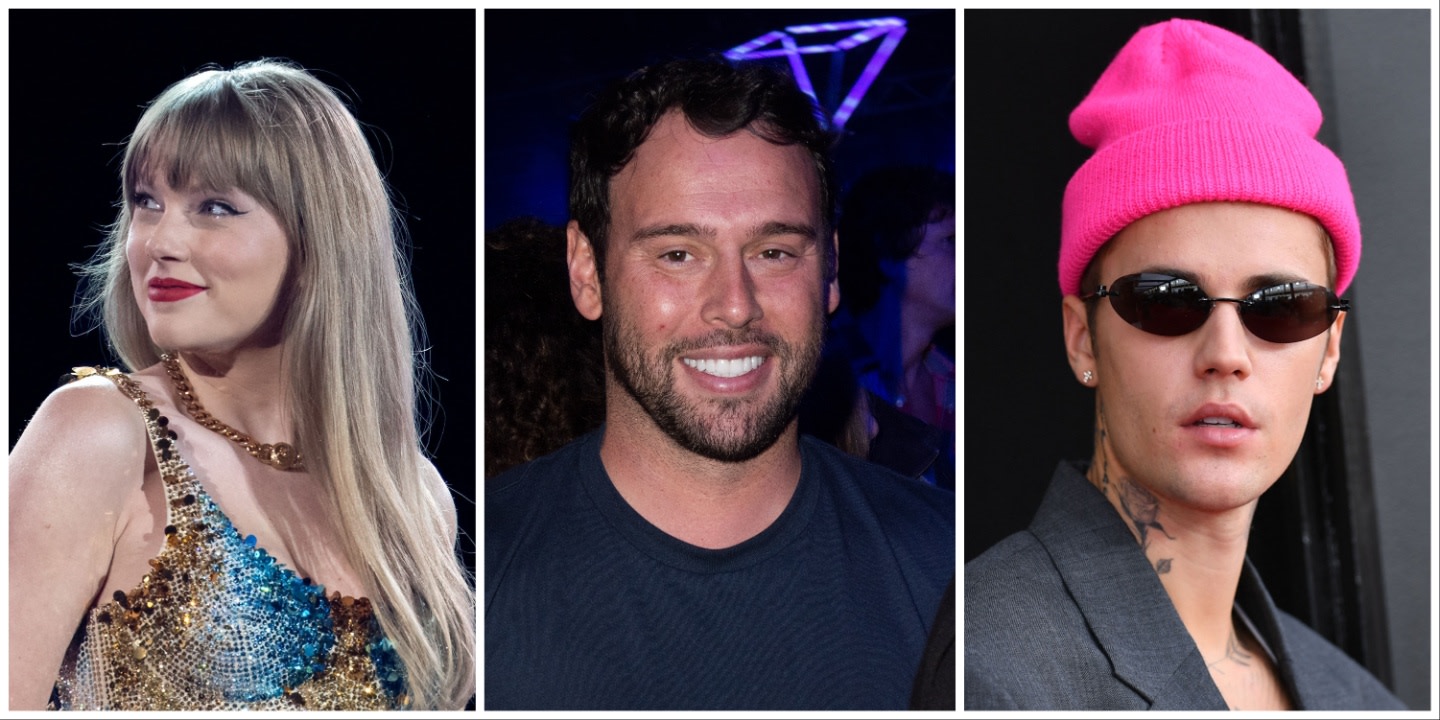 There's hardly a corner of modern pop music that hasn't felt the influence of Scooter Braun. The 42-year-old music manager, entrepreneur, and CEO entered the industry's upper echelons when he discovered Justin Bieber singing on YouTube in 2008. He signed the Canadian teenager to his management company SB Projects, and shepherded him to a major label deal with Island Def Jam and music megastardom. Ariana Grande came on board in 2013, joining a roster that has included Kanye West and Demi Lovato. Gradually, Braun himself became a household name, his profile surging thanks to the controversy over his 2019 purchasing of Taylor Swift's first six album masters, something Swift was personally opposed to. Still, being hated by one of the most powerful and popular musicians in the world didn't stop Braun from being named the CEO of HYBE America, the stateside division of K-pop studio with omnivorous cultural ambitions, in 2021.
But on August 18 this year, cracks began to emerge. A report claimed that Justin Bieber was looking for new management. Then, more names emerged: Ariana Grande, Demi Lovato, Carly Rae Jepsen, and more had allegedly stopped working with Braun. None of the artists involved or Braun's team issued any statements publicly, and the lack of solid information led to speculation. What could Braun have possibly done to lead to reports of such an exodus? A scandal was about to break, the internet insisted, and Braun himself didn't offer any statement beyond a mild Twitter joke. The prevalence of such gossip suggested that something earth-shattering was inevitable; the details of the entire episode reveal that a dramatic conclusion is anything but certain.

His history with Taylor Swift provides key context
The Swifties, one of the largest and most powerful fanbases on earth, were thrilled by news of the artists leaving Braun's team and disseminated it across the internet. Some insisted that Swift had been leaving clues for them in "vigilante shit," a song from her 2022 album midnights. In the song, Swift sings "While he was doing lines / And crossing all of mine / Someone told his white-collar crimes to the FBI." The person in the lyric, some superfans insisted, was Braun, and the specter of serious charges against him spread without any real evidence to back it up.
You can pinpoint the exact moment Scooter Braun became an enemy to Swift's fans: June 30, 2019. On that day, Taylor Swift shared an open letter on Tumblr — in it, the singer-songwriter decried the sale of Big Machine, the record label that released her first six albums, to Braun, who she accused of "incessant, manipulative bullying" throughout her career. As an example, she attached a screenshot of a Justin Bieber Instagram post, a photo of Bieber on a FaceTime call Braun and Kanye West, captioned with "Taylor Swift what up." (Bieber quickly deleted the caption and issued an apology the same day as Swift's open letter).
The picture was shared on August 2, 2016. At this time, Kanye West had released "Famous," a song which stoked controversy over lyrics where West took credit for Taylor Swift's popularity. West claimed that Swift had signed off on the lyrics; Swift's team denied it, and while accepting the Album of the Year award for 2016's 1989, Swift seemed to reference the dispute in her speech: "I want to say to the young women out there, there are going to be people along the way who try to undercut your success or take credit for your accomplishments or your fame."
Kim Kardashian, West's then-wife, would go on to share footage of Swift agreeing to the "Famous" lyrics "I feel like me and Taylor might still have sex," causing the internet to melt down and throwing Swift's image into disarray — notably, the Swift team's initial statement claimed to have "cautioned him about releasing a song with such a strong misogynistic message," something that is not shown in the footage. However, West is not shown sharing the lyric "I made that bitch famous," which Swift pointed out in her own statement.
Both Kardashian and West are named in Swift's June 30, 2019 letter, and Swift made it clear that she considered Braun to be behind Bieber's post and West's appearance in it: "Scooter got his two clients together to bully me online about [the leaked footage]."
Swift claimed that Scott Borchetta, the owner of Big Machine who sold the label to Braun, knew how she felt about Braun. "Any time Scott Borchetta has heard the words 'Scooter Braun' escape my lips, it was when I was either crying or trying not to. He knew what he was doing; they both did. Controlling a woman who didn't want to be associated with them. In perpetuity. That means forever." Less than a month later, Swift announced her intentions to re-record her Big Machine albums, thus removing her music's association with Braun and Big Machine.
The rift between Swift and Braun/Borchetta deepened when Swift shared another statement on November 14, 2019, claiming that they were preventing Swift from performing a medley of hits at the American Music Awards. Swift asked her fans to get in touch with Braun and Borchetta and "let [them] know how you feel about this"; the following week, Braun said that he received "numerous death threats directed at my family." He continued, addressing Swift directly: "I assume this was not your intention, but it is important that you understand that your words carry a tremendous amount of weight and that your message can be interpreted by some in different ways." In the end, Swift's performance at the AMAs included music then owned by Braun.
Just over a year later, Braun and his Ithaca Rights Holdings LLC sold the rights to Swift's masters to an investment group called Shamrock. Originally purchased by Braun for $300 million, the Swift masters were reportedly hawked to Shamrock for $405 million. In a statement, Swift said she had entered serious negotiations to buy back the albums, but claimed her purchase was contingent on signing an NDA that would have prevented her from saying anything negative about Braun. However, a Music Business Worldwide investigation found that the NDA only applied to the deal itself, not Braun.
The sale did not mark an end to the saga. Braun's reputation took a significant hit; a 2022 Business Insider report spoke with insiders who described Braun as "a relentless egotist whose main focus is burnishing his image and growing his empire." On top of that, Swift's re-recorded albums are currently exceeding the original projects in streams, a stat that could indicate the willingness of her fanbase to entirely disregard any Swift recordings that she does not own. She's released three so far, Fearless, Speak Now, and Red, with 1989 on the way this October — every time a new one drops, it's a reminder for the entire industry of the conflict that tarnished Braun's reputation and informed the coverage of this new, strange series of events.
The HYBE deal made Braun even more important — and busy
HYBE is the South Korean studio behind the globe-conquering K-pop group BTS. Founded by Bang Si-hyuk and formerly known as Big Hit, HYBE's plans to further assert itself in the Western pop music marketplace heavily involve Scooter Braun. HYBE and Braun's Ithaca Holdings merged in 2021 in a deal that reached $1 billion. At the time, Braun's client list included Justin Bieber, Ariana Grande, J Balvin, Florida Georgia Line, Demi Lovato, and many more. The deal covered "a range of services including management, label services, and publishing," Variety reported.
The HYBE/Ithaca merger resulted in a windfall for Braun's artists, though some received more than others. A HYBE corporate filing obtained by Variety detailed how the merger led to $161 million in equity received by Ithaca's staff and artists. Braun was handed about $86.2 million worth of shares with Bieber and Grande each receiving around $11 million worth. The shares received by J Balvin and Demi Lovato were worth $4.1 million and $1.06 million, respectively.
Upon the announcement of the HYBE/Ithaca merger, Bang Si-hyuk hailed the "new paradigm the partnership will establish in the music industry." To that end, Braun has been HYBE's diligent point man in the United States, overseeing the $300 million purchase of Atlanta rap label Quality Control and signing the Puerto Rican reggaeton star Ozuna to SB Projects.
A timeline of artists dropping (or not dropping) Scooter Braun
On August 18, Puck's Matthew Belloni shared a new report: Justin Bieber was actively looking for new management, Belloni claimed, despite years remaining on his existing contract with SB Projects. Belloni added that Braun and Bieber hadn't spoken in months. A flurry of behind-the-scenes denials followed, but more stories started to emerge about different artists leaving Braun's management. On August 21, it was Demi Lovato (an "amicable" split, reportedly) and Ariana Grande (also amicable, though whether or not she actually left SB Projects is still a question). The next day, news broke that Broadway star Idina Menzel had left Braun's company in January. The Associated Press reported on the departures of Carly Rae Jepsen, BabyJake, and Asher Roth, with representatives for the artists saying on August 24 that their clients had not worked with Braun in "quite some time." Throw in J Balvin's May departure for Roc Nation, and a hazy pattern began to emerge.
There are competing accounts, but nothing points to any immediate legal woes
Braun's camp has offered a convincing spin. They told TMZ that contract negotiations between Bieber and Grande were ongoing and that Braun was transitioning gradually into his new role of CEO of HYBE America. Even storied entertainment trades like Variety are at a loss, calling the Braun management saga "a strange netherworld of off-the-record confirmations and denials where one set of sources says one thing and another says the opposite."
Belloni, who reported for the news and entertainment website Puck on Beiber's departure, stuck by his story in an update posted on August 25. Both Bieber and Grande are still looking for new management, according to his sources. For Grande, the breaking point reportedly came when Braun refused to fly to London personally to help deal with the unfolding PR crisis over Grande's alleged relationship with Ethan Slater, her married co-star in Wicked. "I deserve a vacation," Braun reportedly told Ariana's team. Bieber's team reportedly was upset over his recent tour, planned by Braun's business partner Allison Kaye, and blamed Braun for what they saw as Kaye not being "above board with them." The tour was canceled in November 2022 after a previously rescheduling over Bieber's Ramsay Hunt Syndrome diagnosis.
In Belloni's view, the artist departures aren't the result of any scandal about to blow or significant clashes. It's just a simple case of Braun taking on too many jobs that require close, personal attention. (Per Variety, "Braun has been only tangentially involved in the careers of even his biggest artists in recent years." The AP claims that artists on SB Projects have day-to-day managers who are not Braun, and he consults with them"). Both Bieber and Grande signed to new management deals just before Ithica's sale to HYBE, which could have indicated Braun's intention to stay on.

What's next?
While some Swift fans might hold out hope for a career-ending scandal, there's no evidence yet to support one. Even if Braun is no longer a manager by the time the dust settles, his role as CEO of HYBE America ensures that Braun's legacy as a pop overlord is far from complete.