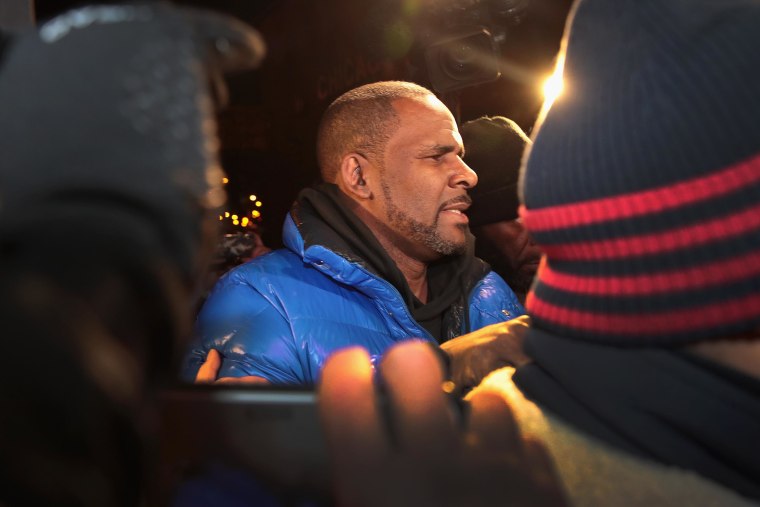 R. Kelly has entered a plea of not guilty for each of the 10 charges of criminal aggravated sexual assault he currently faces, according to a report in the Associated Press.
Kelly is currently being held in a Chicago jail, as he is unable to pay the $100,000 required for the $1 million bond set by a judge last week. Steve Greenberg, Kelly's attorney, said the artist "really doesn't have any money at this point" thanks to "mismanagement," "hangers-on" and "bad deals."
On February 22, Kelly surrendered to police after he was charged that day with 10 counts of criminal aggravated sexual assault. Prosecutors in Cook County allege Kelly abused four girls between the ages of 13 and 16.
His arrest came the week after authorities received a videotape reportedly depicting Kelly engaging in explicit acts with an underaged girl. The same week, two women accused Kelly of sexually abusing them after a concert in the '90s.
Kelly's plea of not guilty comes the same day as an op-ed from Lisa VanAllen, who testified against Kelly during his 2008 child pornography trial (Kelly was acquitted of all charges). She credited Lifetime's documentary series Surviving R. Kelly with the renewed interest in allegations against Kelly: "The documentary, the #MeToo and the #MuteRKelly movements and the brave people speaking their truth or organizing for change have led to new indictments against Rob and opened peoples eyes."