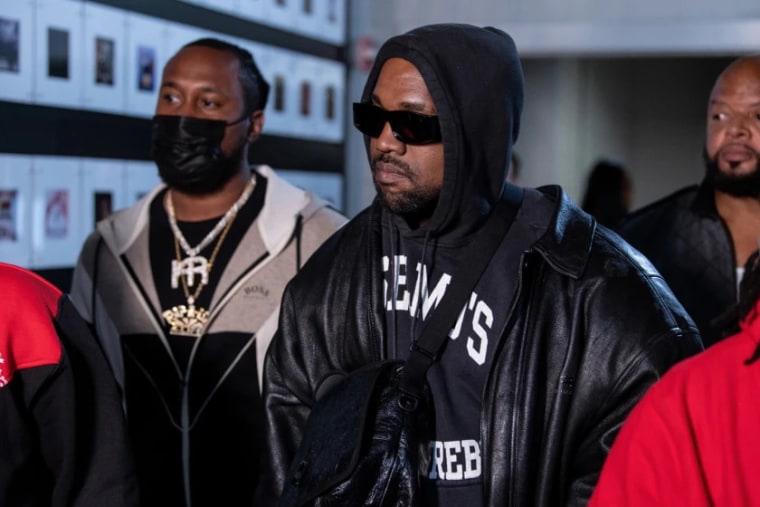 Quentin Tarantino has laughed off Kanye West's suggestion that the Hollywood director stole the idea for Django Unchained from him. West, now known as Ye, claimed in a recent interview with Piers Morgan that he had pitched him a similar plot to the 2012 movie, in which a slave rescues his wife from a plantation owner, after meeting with him about potentially directing the "Gold Digger" video back in 2005.
Tarantino was a guest on Jimmy Kimmel Live on Thursday night and the host asked him whether there was any truth in Ye's claim. Tarantino replied: "There's not truth to the idea that Kanye West came up with the idea of Django and then he told that to me, and I go, 'Hey, wow, that's a really great idea. Let me take Kanye's idea and make Django Unchained out of it.' That didn't happen."
"I'd had the idea for Django for a while before I ever met Kanye. He wanted to do a giant movie version of The College Dropout the way he did the album – so he wanted to get big directors to do different tracks from the album and then release it as this giant movie – not video, nothing as crass as videos, it was movies, movies based on each of the different tracks," Tarantino added.
"We used it as an excuse to meet each other and and so we met each other we had a really good time. And he did have an idea for a video. I do think it was for the 'Gold Digger' video, that he would be a slave. And the whole thing was the slave narrative where he's a slave and he's singing 'Gold Digger.' And it was very funny. It was a really, really funny idea," Tarantino continued. "It was meant to be ironic. And it's like a huge musical. I mean, like no expenses spared with him in this slave rag outfit, doing everything. And then that was also part of the part of the pushback on it. But I wish he had done it. It sounded really cool. Anyway, that's what he's referring to."
Ye's claims about Tarantino came amid a series of interviews and other public appearances, in which he repeatedly made antisemitic remarks, that have caused huge damage to his finances and standing in both the music and fashion worlds.
On Tuesday Adidas confirmed they had terminated their partnership with West and his Yeezy brand, a deal that earns them an estimated $2bn annually. In a statement the German sports retailer said it "does not tolerate antisemitism and any other sort of hate speech."
The past week has seen West dropped by Balenciaga, talent agency CAA, his lawyer, and a film studio with a completed documentary on the artist. Athletes Aaron Donald and Jaylen Brown also ended their partnerships with West's brand management agency, Donda Sports while the Donda Academy has shut for the school year. Additionally, it has emerged that the rapper is no longer signed to longterm label Def Jam, with his contract expiring in 2021.