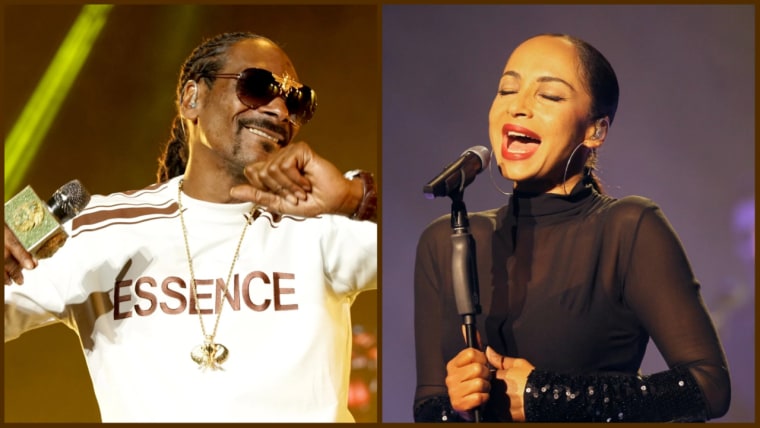 Sade and Snoop Dogg have been inducted into the Songwriters Hall of Fame. Listed in SHOF's official announcement as Sade Adu p/k/a Sade and Calvin Broadus Jr. p/k/a Snoop Dogg, their names sit alongside those of five other 2023 inductees: Alanis Morissette co-writer Glen Ballard, Cuban-American diva Gloria Estefan, longtime ELO leader Jeff Lynne, new jack swing pioneer Teddy Riley, and Nashville top-liner Liz Rose — best known for her collaborations with Taylor Swift — fill out this year's list.
"The music industry does not exist without songwriters delivering great songs first," Nile Rogers, SHOF's chairman and a 2016 inductee himself, wrote in the Hall's official announcement of the 2023 class. "Without them, there is no recorded music, no concert business, no merch… nothing, it all starts with the song and the songwriter. We are therefore very proud that we are continually recognizing some of the culturally most important songwriters of all time and that the 2023 slate represents not just iconic songs but also diversity and unity across genres, ethnicity, and gender, songwriters who have enriched our lives and, in their time, literally transformed music and the lives of billions of listeners all over the world."
In the fall, Billboard revealed that Sade and her eponymous band were getting back in the studio — specifically Brad Pitt and Damien Quintard's newly renovated Château Miraval recording space — following a 12-year hiatus since their most recent album, Soldier of Love.
Snoop Dogg joined Ice Cube, E-40, and Too $hort to release their first album as the supergroup Mount Westmore. A month earlier, The Hollywood Reporter broke the news of a Snoop Dogg biopic in the works, directed by Black Panther Allen Hughes. In July, a woman refiled her lawsuit accusing Snoop of sexual assault and battery after filing a notice of voluntary dismissal in April.