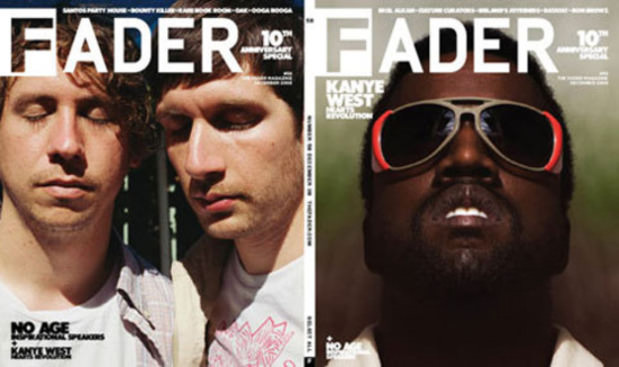 Dec 2008
10th Anniversary
Highlights
Editor's Letter
In the ten years since this magazine was founded, The FADER has always been about looking ahead, being fearlessly enthused about breaking-out musicians and artists and filmmakers and um, even pastry chefs (issue 20!), when they are at their rawest, fightingest, experimentalest selves. We like the scrappy, dangerous, instinctual and real. With this issue—our anniversary—we laud folks who are totally FADER in essence: people hungry with curiosity, who pull likeminded artists into their orbits, in the same style as curators in a gallery or the selectors behind the decks.


If there is one person who has embodied the FADER spirit throughout his career, it is the biggest pop star in the galaxy, our cover artist, the honorable Kanye West. Kanye was featured in FADER 20 (his first cover) in black and white with a backpack, just about to emit world tremors with College Dropout. Now, with his charisma on lightspeed, his orange Mars specs strapped tight, he looks like he is ready to warp into the fifth dimension, since he has already ostensibly conquered the world. This time, rap's most relevant artist has taken an awesome risk: to hang up the flow for a minute and start singing electricky heartbreak ballads. His numerology said so. Online Editor Peter Macia went to Kanye's LA home and, after they stopped talking about HTML, discovered we all (you and I) have everything in common with the down-to-earth and otherworldly Kanyeezy. According to our star chart, this means 808's and Heartbreak is either the third or first best album since the beginning of time.


If you have a monocle handy you might notice that a quote from our Kanye story almost perfectly matches one from Randy Randall of No Age, our back cover stars and favorite riffmonsters. Both complain about the boundaries put upon them as artists and as people. Each is talking about populism, that music should be inclusive as much as it can be. No Age practices this by leaving no child behind, playing all ages shows so kids can be liberated by love and punk, while Kanye makes hooks as memorable as your own name. Inclusion, too, is a FADER value to infinity. We believe that no culture should be separate, that everyone should have access, that we all should be together. So let's celebrate.

JULIANNE ESCOBEDO SHEPHERD